Polyester vs. Steel Strapping: The Basics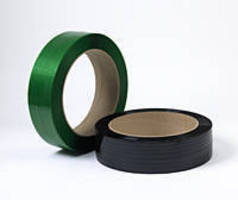 Over the past few years, we have noticed that companies are aggressively moving from steel to polyester strapping. There are some very clear reasons why this move is becoming more popular. To begin with, as we've mentioned before, polyester is safer than steel due to steel's sharp edges and polyester's ability to settle with loads as they settle. It also doesn't help that steel prices fluctuate quite a bit throughout the year (they're up of late).

However, before anyone can make an informed decision, they need to get to know the pros and cons of both steel and polyester strapping.

Steel

Steel strapping, as its name implies, is made using thick steel-reinforced bands. Steel straps are sold in rolls and they are commonly found in grades of regular duty and high tensile. While steel straps are highly durable, they can rust and like we mentioned they have some safety issues due to their steel edges. As you might expect from anything made of steel, they can be quite heavy and are less cost-effective than polyester.

Polyester

Polyester is the material of choice for much of today's strapping for a number of reasons. Because of its flexibility and strength, it can handle heavy loads and absorb a high amount of energy without breaking or elongating under tension. Because this strapping is manufactured from polyester resin, its edges are not sharp and will not damage equipment or injure people. Perhaps the only downside to polyester strapping is that it inherently cannot be as strong as steel, but it is certainly strong enough to withstand almost any challenge put to it. In addition, it's lighter and a great deal more cost effective. If you want some tangible proof of how much less expensive polyester can be, please visit our website's solutions center www.strapsolutions.com/strapping-solutions-center.html and try out our Savings Tool. This one-of-a-kind spreadsheet-based tool allows you to see how much you will actually save if you switch from steel to polyester.

In an effort to give our customers and readers all the information on the benefits of polyester over steel strapping, we will be posting a series of blogs over the next few months that will compare steel versus polyester. Of course, whether you choose steel or polyester, the most important thing you can do is to buy your strapping from a trusted supplier like PAC. Because it doesn't matter what your strapping is made of, if it isn't made right.

For more information, please visit our website www.strapsolutions.com, email info@strapsolutions.com or call 800-523-7752.


More from Electronic Components & Devices