Polyelectrolyte Batching Systems produce 400-2,000 Lph.
Press Release Summary: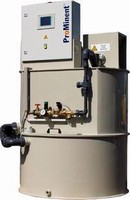 Used for removal of colloidal solids from liquids, double decker Ultromat® systems come in versions for use with powder polymers only (AFD series), liquid polymers only (ATD series), or both (ATFD series). Separate batching/aging and dosing tanks allow batch to be prepared in aging tank while contents of dosing tank are being used. Subsequently, prepared batch can then be transferred to dosing tank. Fully automatic, turnkey units can produce 0.05-0.5% flocculant dosing solutions.
---
Original Press Release:

New "Double Decker" Polyelectrolyte Batching Preparation Units



ProMinent Fluid Controls, has introduced a new range of compact, "double decker" Ultromat® polyelectrolyte batching systems used for the removal of colloidal solids from liquids. Three variants are available. The AFD series is for use with powder polymers only, the ATD series for use with liquid polymers only while the ATFD series can handle both liquid and powder polymers. Each range features separate batching/aging and dosing tanks.

The new system offers significant benefits over continuous flow systems for flocculants that are slow to dissolve, or need to be aged for a precise time before use. A batch can be prepared in the aging tank while the contents of the dosing tank are being used, then the prepared batch transferred to the dosing tank.

Capable of producing 0.05 to 0.5% flocculant dosing solutions, each of the ranges is available in three sizes, with batch quantities of 400, 1000 and 2000 l/hour. The systems are fully automatic, turnkey units supplied complete with two polyethylene or polypropylene tanks, a dry feeder containing a feeder screw pipe heater and powder shortage sensor, and a flow meter for incoming water. A flushing system rinses and wets the powder in the ATD and ATFD versions, with automatic control of the dilution water. The AFD and ATFD versions feature pipework for metering of liquid concentrate. A slow running electronic mixer ensures the aging process is optimised in the upper tank.

A huge range of accessories is available for these units. This includes storage tanks, aerators and level sensors. Equipment for pneumatic feed of powder straight from the supply container, such as Big-Bag is also available. ProMinent also offers re-dilution units, flushing unit, metering gauges and pumps for the concentrate and the prepared solution.

Other Enquiries: Robert Baldwin, ProMinent Fluid Controls (UK) Ltd, Resolution Road, Ashby de la Zouch, Leicestershire, LE65 1DW.
Tel: 01530 560555. Fax: 01530 560777.
E-mail: sales@prominent.co.uk Internet: www.prominent.co.uk

More from Computer Hardware & Peripherals