Polycarbonate Resins target aircraft cabin lighting.
Press Release Summary: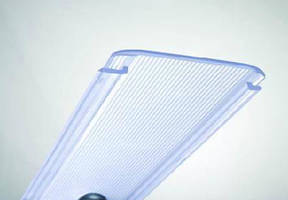 Suitable for extruding parts with thin walls down to 1.0 mm, LEXAN CFR5630 provides material option for components that require transparency or virtually any custom color, while LEXAN CFR5630D is available in 5 different colors to deliver desired diffusion and light-transmission effects critical to LED lighting. Both are lot-to-lot certified so customers are assured that each lot they order consistently meets FAR25.853 flame and smoke regulatory standards and OEM toxicity requirements.
---
Original Press Release:

SABIC Announces Pre-Certification of Its LEXAN(TM) CFR Resin Lighting Portfolio for Aircraft Interiors and New All-Color Capability



At the Aircraft Interiors Expo, SABIC's Innovative Plastics business today announced two important new features of its industry-leading portfolio of materials for aircraft lighting that will help OEMs and tier suppliers more quickly manufacture their cabin lighting components while providing "all color capability" to enable full customization of lighting fixtures.



SABIC's LEXAN CFR5630 resin provides material options for components that require transparency or – now – virtually any custom color, while LEXAN CFR5630D resins are available in five different colors to deliver the desired diffusion and light-transmission effects so critical to LED lighting.  Each of the LEXAN CFR resins are now "lot-to-lot" certified, meaning that customers are now assured that each lot they order consistently meets FAR25.853 flame and smoke regulatory standards and OEM toxicity requirements.



"SABIC is constantly seeking more ways to deliver more value and innovation to the aircraft industry," Kim Choate, Market Director, Mass Transportation, Innovative Plastics, said. "With this mindset, we look for opportunities to help OEMs and tier suppliers achieve their design, cost reduction and efficiency objectives. The enhancements to the LEXAN CFR resin portfolio for aircraft interiors were developed to answer our customers' needs for lightweight, compliant materials that can be ordered 'off the shelf,' with pre-certification and unlimited color options," Choate noted.



Robust FST Performance with a More Sustainable Formulation

These new enhancements build upon the spectrum of benefits the LEXAN CFR materials already provide. LEXAN CFR5630 and CFR5630D resin grades meet the requirements of the FAR 25.853 vertical burn test down to 1.0mm – a milestone for polycarbonate materials. These grades also passed the test at 2mm and 3mm. For smoke density according to ASTM E662, the materials performed extremely well at low smoke density rates including Ds 58 (at 3mm) and Ds 68 (at 2mm) according to independent lab testing. Compared to competitive materials such as polyvinyl chloride/ polymethyl methacrylate (PVC/PMMA), these grades from SABIC pass toxicity and smoke density requirements more robustly, meeting tough commercial toxicity standards from Airbus and Boeing. These non-phosphate and non-halogenated flame-retardant LEXAN CFR resin materials also comply with major environmental protocols.



Enabling Thin Wall Designs for Reduced Fuel Consumption; Processing Versatility

The LEXAN CFR resin portfolio gives customers the ability to mold or extrude parts with very thin walls (down to 1.0mm), helping aircraft OEMs, designers and manufacturers realize new weight-out strategies. In addition, an important advantage of these grades is their ability to be used for both extrusion and injection molding applications. Typically, customers would require two different products with different flow behaviors for extrusion and injection molding. LEXAN CFR5630 and CFR5630D resin grades have a special feature called the shear-thinning effect. It allows the product to flow slowly in low shear conditions, such as the extrusion process, and to flow quickly in high-shear processes, such as injection molding. This versatility enables customers to avoid the effort and time required to specify two different products; instead they can use the same SABIC material for two different processes.



LEXAN CFR5630 resin, available in transparent and opaque formulations, is a material of choice for lenses, light rails and seating components, while LEXAN CFR5630D, the diffusion grade, is aimed at light-emitting diode (LED) lighting applications and is UV-stabilized to provide improved color stability, especially important for unpainted parts. 



For more information about SABIC's portfolio of aircraft-grade materials for interior lighting, please contact productinquiries@sabic-ip.com. 



About SABIC

Saudi Basic Industries Corporation (SABIC) ranks as the world's second largest diversified chemical company. The company is among the world's market leaders in the production of polyethylene, polypropylene and other advanced thermoplastics, glycols, methanol and fertilizers.



SABIC recorded a net profit of SR 23.3 billion (US$ 6.2 billion) in 2014. Sales revenues for 2014 totaled SR 188.1 billion (US$ 50.2 billion). Total assets stood at SR 340 billion (US$ 90.7 billion) at the end of 2014.



SABIC's businesses are grouped into Chemicals, Polymers, Performance Chemicals, Fertilizers, Metals and Innovative Plastics. SABIC has significant research resources with 19 dedicated Technology & Innovation facilities in Saudi Arabia, the USA, the Netherlands, Spain, Japan, India, China and South Korea. The company operates in more than 45 countries across the world with around 40,000 employees worldwide.



SABIC manufactures on a global scale in Saudi Arabia, the Americas, Europe and Asia Pacific.



Headquartered in Riyadh, SABIC was founded in 1976 when the Saudi Arabian Government decided to use the hydrocarbon gases associated with its oil production as the principal feedstock for production of chemicals, polymers and fertilizers. The Saudi Arabian Government owns 70 percent of SABIC shares with the remaining 30 percent held by private investors in Saudi Arabia and other Gulf Cooperation Council countries.



About Innovative Plastics

SABIC's Innovative Plastics business is a leading, global supplier of engineering thermoplastics with an 80-year history of breakthrough solutions that solve its customers' most pressing challenges. Today, Innovative Plastics is a multi-billion-dollar company with operations in more than 35 countries and approximately 9,000 employees worldwide. The company continues to lead the plastics industry with customer collaboration and continued investments in new polymer technologies, global application development, process technologies, and environmentally responsible solutions that serve diverse markets such as Healthcare, Transportation, Automotive, Electrical, Lighting and Consumer Electronics. The company's extensive product portfolio includes thermoplastic resins, coatings, specialty compounds, film, and sheet. Innovative Plastics (www.sabic-ip.com) is a wholly owned subsidiary of Saudi Basic Industries Corporation (SABIC).



SABIC Media Contacts

Susan LeBourdais

E: susan.lebourdais@sabic-ip.com

T: +1-413-448-6876

More from Software