Polycarbonate Material suits rapid prototyping applications.
Press Release Summary: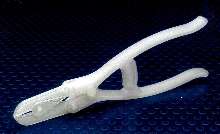 Type PC-ISO meets ISO 10993-1 and USP Class VI standards and is suited for food, pharmaceutical, and medical equipment modeling. It can be sterilized using gamma radiation or ethylene oxide method. Available in translucent and white, product is suited for T-Class rapid prototyping systems. Components built from translucent PC-ISO allow viewing of solid or liquid material flow. Model-layer thickness choices include 0.007 and 0.010 in.
---
Original Press Release:
Medical-Grade Prototype Material Developed by Stratasys

Polycarbonate Material is for use in Applications Such as Food-, Pharmaceutical-, and Medical-Equipment Modeling, as Well as Automotive Applications

Minneapolis, February 18 - (NASDAQ: SSYS) Rapid prototyping system maker, Stratasys, announced it has developed a polycarbonate modeling material for food-, pharmaceutical-, and medical-equipment modeling, among other applications.

Polycarbonate (PC) is a durable plastic, first introduced for rapid prototyping in 2001, and now common for functional prototypes. Design engineers select PC for its high impact and flexural strength, as well as its ability to handle high-temperature applications.

Stratasys expects common modeling applications to include: Pharmaceutical material handling, processing, and packaging systems; Surgical instruments; Food-handling and processing systems; Automotive lighting; and Rapid manufacturing of end-use products. The new formula was developed and beta tested in partnership with users in the pharmaceutical processing and handling industry.

The new formula, called PC-ISO, meets both ISO 10993-1 and USP Class VI standards. Class VI is the most stringent of the six USP ratings. According to these standards, device manufacturers are responsible for re-certifying the material for their specific application. PC-ISO can be sterilized using either the gamma radiation or ethylene oxide (EtO) method. PC-ISO is for use with Stratasys T-Class rapid prototyping systems, which include the FDM Vantage and FDM Titan. The material is available in both translucent and white color. Components built from translucent PC-ISO will allow viewing of solid or liquid material flow in production processes and it will be useful in lighting-product design. Current model-layer thickness choices are 0.007 and 0.010 inch (0.178 and 0.254 mm).

The modeling material will begin shipping in April. For full details, users should contact their sales representative.

The T-Class high-performance platform allows the use of high-temperature, high-performance engineering thermoplastics. Like all Stratasys FDM rapid prototyping systems, the T-Class machines require no special facilities or venting and involve no nuisance, dangerous, or hazardous materials or by-products.

Stratasys Inc, Minneapolis, manufactured 31% of all rapid prototyping systems installed worldwide in 2002, the highest percentage of any manufacturer, according to Wohlers Report 2003. The company patented the rapid prototyping process known
as fused deposition modeling (FDM®). The process creates solid models directly from 3D CAD files using ABS plastic, polycarbonate, PPSF or other materials. Stratasys
manufactures rapid prototyping systems for OEMs such as aerospace, automotive, defense, consumer, and medical product makers.

FDM Titan and FDM Vantage are trademarks, and Stratasys is a registered trademark, of Stratasys, Inc.
More from Architectural & Civil Engineering Products