Pole-Hung Device Swab Strip offers accessibility, FDA compliance.
Press Release Summary: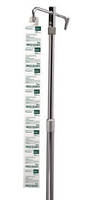 Providing central line associated bloodstream infection (CLABSI) protection at point-of-care, Prevantics® Device Swab Strip contains 8 swabs per strip and one hang tab. Product contains 3.15% (w/v) Chlorhexidine gluconate (CHG) and 70% (v/v) Isopropyl alcohol (IPA) solution with 510k clearance from US FDA for disinfecting needleless access sites prior to use. Promoting staff compliance while reducing risk of infection transmission, product has 5 sec scrub and 5 sec dry time.
---
Original Press Release:

PDI Healthcare Announces Launch of Prevantics® Device Swab Strip, Designed with Convenience in Mind



ORANGEBURG, N.Y. – PDI, a leader in infection prevention products and solutions, today announced the launch of its Prevantics® Device Swab Strip. The new product expands on the existing Prevantics Device Swab offering by providing effective central line associated bloodstream infection (CLABSI) protection where and when healthcare professionals need it most, at point-of-care.



The Prevantics Device Swab Strip contains eight swabs per strip and a hang tab. It is designed to hang from an IV pole, making it easily accessible to healthcare professionals. The product has a five second scrub and five second dry time. The convenient accessibility of the Prevantics Device Swab Strip along with the short scrub and dry time can help improve staff compliance and reduce the risk of infection transmission.



"As part of our continued effort to reduce preventable infections and improve patient outcomes, we strive to make it easy for our customers and their staff to do the right thing, every time," said Chris Puricelli, Vice President of Marketing. "Not only does the new Prevantics Device Swab Strip have a significantly faster scrub and dry time than similar products, but it is also designed to always be within arms' reach, ultimately improving staff compliance."



The Prevantics Device Swab contains the first and only 3.15 percent (w/v) Chlorhexidine gluconate (CHG) and 70 percent (v/v) Isopropyl alcohol (IPA) solution to receive 510k clearance from the US Food and Drug Administration (FDA) for disinfecting needleless access sites prior to use. One comparative effectiveness study showed that a Chlorhexidine/Alcohol scrub resulted in less needleless connector contamination than alcohol alone.



The Prevantics Device Swab Strip will be fully available on June 1, 2016, and preorders are being taken now. Visit pdihc.com/prevanticsdevicestrip.



About PDI Healthcare

PDI offers a broad range of evidence-based, market leading Interventional Care, Environment of Care, and Patient Care solutions, all designed to help reduce preventable infections, control healthcare costs, and ultimately help save lives. It's all part of PDI's passion to Be The Difference®, every day.  To learn more, visit pdihc.com.



Media Contact:

Jason Morley

Kwittken

646-747-7173

jmorley@kwittken.com





Web Site: http://www.pdihc.com

More from Controls & Controllers