POL Step-Down Buck Switching Regulators incorporate control loop.
Press Release Summary: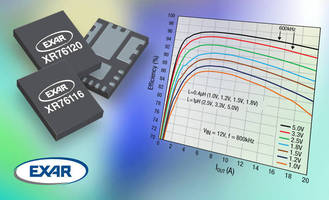 Offered in 5 x 6 mm TQFN package, 15 A XR76116 and 20 A XR76120 deliver full range 0.1% load regulation and 1% output accuracy over -40 to +125°C operating range. Emulated current mode constant on-time (COT) control loop enables operation with ceramic output capacitors without degradation in transient performance and eliminates loop compensation components, while gate driver technology reduces dead times to 10 nsec. Supervisory and protection features are standard.
---
Original Press Release:

15A and 20A POL Regulators Power Next Generation Servers



Fremont, CA – Exar Corporation (NYSE: EXAR), a leading supplier of analog mixed-signal products serving the industrial, high-end consumer and infrastructure markets, introduced the XR76116 and XR76120, 15A and 20A point-of-load (POL) step-down buck switching regulators using the latest generation of Exar's patented emulated current mode constant on-time (COT) control. This control loop provides the fast transient response required in demanding server applications while making implementation simple and easy. Improved gate driver technology has reduced dead times to 10ns, resulting in improved efficiency across the entire operating range.



The XR76116 and XR76120 extend the output current range of the PowerBloxTM line of Exar's high current POL regulators up to 20A. The patented COT control loop enables operation with ceramic output capacitors without degradation in transient performance and eliminates loop compensation components, making a simpler and more reliable design. Additional features targeted at server applications include a power good pin which maintains a low impedance when the chip is unpowered thereby avoiding false power good signals. Also, there is a second output voltage sense pin, ensuring any failure of the main feedback does not result on damaging voltages being applied to expensive low voltage digital circuitry. These POLs have exceptional full range 0.1% load regulation and 1% output accuracy over the full -40°C to 125°C temperature range. A host of supervisory and protection features for proper sequencing, safe operation under abnormal operating conditions and light load operation is built in.



"The XR76116 and XR76120 POL regulators show Exar's commitment to its key customers and the server market," said Tuomas Hollman, Exar's vice president, power management products. "These are the second set of power products Exar has developed for the server market. The Universal PMIC, XRP7725, was the first product also used in Skylake servers."



Specified over the full -40°C to 125°C temperature range, the XR76116 and XR76120 are offered in a 5mm x 6mm TQFN package. 1,000-piece pricing starts at $2.70 and $3.20 each, respectively. Device samples and evaluation circuit boards are available online. For more information, visit the XR76116 and XR76120 pages.



About Exar

Exar Corporation designs, develops and markets analog mixed-signal products for the industrial and embedded systems communications, high-end consumer and infrastructure markets. Exar's broad product portfolio includes power management, signal conditioning, interface, display, data management and video processing solutions. Exar has locations worldwide providing real-time customer support. For more information, visit www.exar.com.



Exar, XR, the Exar logo are registered trademarks and PowerArchitect is a trademark of Exar Corp. All other trademarks are the property of their respective owners.



Press Contacts:

Rhoeda Farolan

Senior Manager

Corporate Marketing

510-668-7000

press@exar.com



Bob Jones/Derek Rye

North America: 408-786-5151

Europe: +44 1225 470000

exar@publitek.com

More from Mechanical Components and Assemblies