DC to DC Power Supplies (Converters)
POL DC-DC Converters withstand extreme environment of space.
Press Release Summary: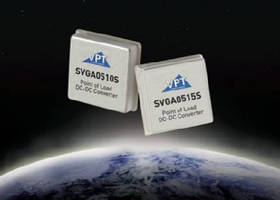 Qualified to MIL-PRF-38534 Class H and Class K by Defense Logistics Agency, SVGA0515 Series delivers up to 50 W of output power, is radiation hardened to 100 krads, and is characterized to SEE of 85 MeV-cm²/mg. Non-isolated, regulated buck converters step down voltage at point of use in distributed power systems. Based on hybrid thick-film technology, 15 A units operate from 5 V input and deliver adjustable output voltage from 0.8-3.4 V with +1.5% accuracy and efficiency up to 94%.
---
Original Press Release:

VPT Adds 15 Amp Point of Load DC-DC Converter to Space Family of Power Conversion Products



VPT is the only manufacturer to now offer two point of load converters that are MIL-PRF-38534 Class H and Class K Qualified, 100K rad hard, and available off-the-shelf

BLACKSBURG, Va., -- VPT, Inc., a HEICO company (NYSE:HEI.A) (NYSE:HEI), announced today the availability of a new point of load power converter designed and manufactured for use in the extreme environment of space. The new SVGA0515 Series point of load DC-DC converter is now qualified to MIL-PRF-38534 Class H and Class K by the Defense Logistics Agency. The SVGA delivers up to 50W of output power, is radiation hardened to 100 krads (Si) including Enhanced Low Dose Rate Sensitivity (ELDRS), and is characterized to SEE of 85 MeV-cm2/mg.

The SVGA Series is the latest addition to VPT's existing line of space DC-DC converters. The SVGA functions as a non-isolated, regulated buck converter that steps down the voltage at the point of use in a distributed power system. From a single, small size, high current package, this module saves significant board space, weight, and cost for power systems headed for LEO, MEO, GEO, and deep space missions.

"To reduce weight and component cost, distributed power systems are relying more on smaller, less expensive point of load converters used in conjunction with the larger, traditional, isolated DC-DC converters. Customer response to our space-qualified, off-the-shelf, point of load DC-DC converters has been phenomenal," explained Monty Pyle, Executive Director of Sales. "We've been asked for a higher current option without the need to waste space and weight stringing together multiple POL converters. We're proud to announce that this product will satisfy the needs of space customers requiring higher power levels and stringent radiation requirements."

About the SVGA0515S Point of Load DC-DC Converter

The performance of the SVGA0515S in space systems is guaranteed by design through extensive worst case analysis, the use of hardened components, and Radiation Lot Acceptance Testing (RLAT) of semiconductor components.

Features:

-- Up to 50W (15A) output power

-- Guaranteed TID performance to 100 krads (Si) including ELDRS, per VPT's DLA-approved RHA plan specified per MIL-PRF-38534, Appendix G, Level R.

-- SEE characterized to 85 MeV-cm2/mg with no dropouts, shutdowns, latch up or burn out

-- 1.075" square for high power density -- >160W/in3 - no need to sync or share multiple units

-- Operates from 5V input

-- Adjustable output voltage from 0.8V to 3.4V with extreme accuracy: +1.5%

-- High efficiency - up to 94%

-- Synchronous rectification topology

-- Extremely fast transient step recovery - just 60uSec

-- Hybrid thick-film technology

-- 100% hermetic

-- Output inhibit control

-- Low output noise

-- No use of opto-isolators

-- Worst case analysis, stress, radiation and reliability reports available(1)

-- Characterization performed at both the component level and at the SVGA series hybrid converter level

Compliances and Certifications:

-- Qualified to MIL-PRF-38534 Class H and Class K

-- VPT's Radiation Hardness Assurance (RHA) Plan certified by DLA to MIL-PRF-38534 Appendix G

-- MIL-PRF-38534 element evaluated components

-- MIL-STD-704A input voltage requirements

-- MIL-PRF-38534 Class H and Class K facility manufacturing

-- ISO-9001

-- MIL-STD-883 environmental screening

-- MIL-STD-461 C-F when used with an EMI filter

-- DLA Land and Maritime SMD 5962-11219 currently in release and approval process

The SVGA is packaged in hermetically sealed metal cases for reliable power delivery through the extreme temperature, shock, vibration, and radiation environments of space travel.

The radiation hardened SVGA modules are available with pricing beginning at US $2,400.00 in OEM quantities. Complete technical details are available at www.vpt-inc.com. For further information, contact VPT at (425) 353-3010.

About VPT and HEICO

VPT, Inc., part of the HEICO Electronic Technologies Group, leads the industry in providing innovative DC-DC power converters, EMI filters, and custom engineering services for avionics, military, and space applications. VPT can deliver its patented power solutions in a fast timeframe, with certified quality, at a comfortable cost. Every day, organizations like NASA, Lockheed Martin, Boeing, Raytheon, the United States Air Force, and many more depend on quality solutions from VPT to power critical systems. Whether on the ground, in the air, or beyond, VPT provides the power driving critical missions today. For more information about VPT, please visit the web site at www.vpt-inc.com.

HEICO Corporation (NYSE:HEI.A) (NYSE:HEI) is engaged primarily in certain niche segments of the aviation, defense, space and electronics industries through its Hollywood, FL-based HEICO Aerospace Holdings Corp. subsidiary and its Miami, FL-based HEICO Electronic Technologies Corp. subsidiary. HEICO's customers include a majority of the world's airlines and airmotives as well as numerous defense and space contractors and military agencies worldwide in addition to medical, telecommunication and electronic equipment manufacturers. For more information about HEICO, please visit the web site at www.heico.com.

(1) Subject to all export restrictions and export regulations including but not limited to the Export Administration and Foreign Assets Control Regulations. Further restrictions may apply contact VPT for details.


More from Electrical Equipment & Systems