DC to DC Power Supplies (Converters)
PoL DC-DC Converters feature high power density.
Press Release Summary: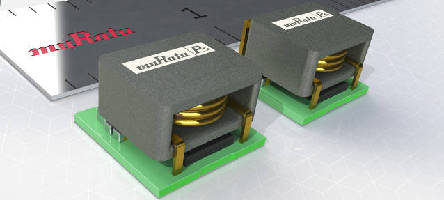 Delivering 6, 12, and 18 A, respectively, Models OKDL-T/6-W12, OKDL-T/12-W12, and OKDL-T/18-W12 can be monitored and configured via PMBus™ communications. Digitally controlled, non-isolated units accept input voltages from 4.5–14 V and have adjustable output voltage range from 0.6–5 V. Measuring 0.48 x 0.48 x 0.315 in., converters offer typical efficiency of 91.6% at 12 Vin and operate from -30 to +95°C, making them suited for networking, computing, servers, telecom, and industrial applications.
---
Original Press Release:

Digitally Controlled PoL Converters in High Density Packaging from Murata



Murata has added an expanded range of digitally controlled, PMBus™ compatible OKDL products to Murata Power Solutions Okami™ series of non-isolated point-of-load (PoL) DC-DC converters. The OKDL-T/6-W12, OKDL-T/12-W12, and OKDL-T/18-W12, delivering 6, 12, and 18A respectively, are capable of being monitored and configured via PMBus™ communications. Exhibiting versatility, the new models accept input voltages from 4.5V to 14V and have an adjustable output voltage range from 0.6V to 5V (1.8V max for 18A model). Designed for a minimal footprint, the high-power-density LGA modules measure just 12.2 x 12.2 x 8.0 mm (0.48 x 0.48 x 0.315 in). The OKDL converters offer a typical efficiency figure of 91.6% at 12Vin, and are able to operate in a temperature range of -30 to +95°C.



The wide operating temperature range of the OKDL products makes it ideal in applications such as networking, computing, servers, telecom, industrial, and other applications of distributed power. The OKDL products are designed to power low-voltage silicon devices such as CPUs, FPGAs, microcontrollers, logic circuits, memory, and other analog/digital devices in mixed voltage systems.



With their digital control and PMBus™ compatibility, the converters offer easy user configuration and monitoring. All power management functions can be reconfigured for user-specific needs using the PMBus™ interface.



Included as standard features are short circuit, over current, over voltage, over temperature, and input under voltage protection, voltage margining and tracking, power good, remote sense, and remote on/off. The converters employ adaptive compensation of the PWM control loop, a phase spreading feature to reduce input capacitance, synchronization to reduce EMI filtering, and an optimized dead time control. The OKDL converters are delivered with a default firmware configuration suitable for a wide range of input voltage, output voltage, and load.



The OKDL products comply with the new "picoAMP" standard from the Architects of Modern Power (AMP) group of companies, which guarantees customers multiple sources of interoperable products.



"In the ever-changing and complex world of electronics, power systems are becoming more and more complicated. Power systems engineers face difficult challenges delivering low voltage, high current rails to FPGAs, ASICS, and other critical electronic circuits. The OKDL series of PMBus™ compliant PoLs delivers unmatched versatility for precise control and monitoring of the most sophisticated power systems," says Product Manager Bill Smith. "Murata is pleased to deliver the OKDL series to our customers and support the AMP alliance with these 'picoAMP' compliant products."



Further editorial information from:

John Sutherby

General Manager

Marketing Communications

Murata Electronics

Tel: +1-508-964-5117

e-mail: jsutherby@murata.com



Contact details for publication:

Murata Power Solutions, Inc.

11 Cabot Boulevard

Mansfield, MA 02048-1151, USA

Tel: +1-508-339-3000

Fax: +1-508-339-6356

e-mail: muratapr@murata-ps.com



About Murata Power Solutions

Murata Power Solutions (www.murata-ps.com) is headquartered in Mansfield, Massachusetts, with over 1,300 employees worldwide. Murata Power Solutions designs, manufactures and distributes DC-DC Converter, AC-DC Power Supply, Magnetic and Digital Panel Meter product lines, and offers these products in custom, standard and modified-standard variations. Murata Power Solutions products are typically used within electronic applications serving major global market sectors including telecommunications, computing and industrial controls.



Murata Power Solutions is a division of Murata Manufacturing Co., Ltd. (www.murata.com), a worldwide leader in the design, manufacture and sale of electronic components and power supply modules. Murata's devices are found in a wide range of applications including consumer and automotive electronics, and wireless devices. The company has employees and manufacturing facilities throughout the world.



© Murata Power Solutions Inc. All rights reserved

More from Electrical Equipment & Systems