DC to DC Power Supplies (Converters)
PoL DC/DC Converters come in high-efficiency 12 and 20 A models.
Press Release Summary: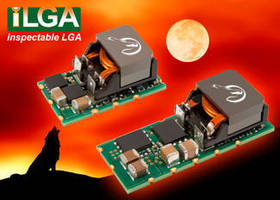 Respectively delivering up to 12 and 20 A, 20.32 x 11.43 x 8.55 mm OKL2-T/12 and 33.02 x 13.46 x 8.75 mm OKL2-T/20 offer 93%–95% typ conversion efficiency and come in inspectable Land Grid Array (iLGA) package that facilitates probing of all signal pads and visual inspection. Both non-isolated models have 2 variants that accommodate nominal 5 Vdc (2.4–5.5 Vdc) or 12 Vdc (4.5–14 Vdc) input range; 5 and 12 V models provide programmable output voltages from 0.6–3.63 Vdc and 0.69–5.5 Vdc.
---
Original Press Release:

Murata Power Solutions Announces: High Efficiency 12 and 20 Amp Models Added to Murata Okami OKL PoL Series



Murata today announced two additions to the Okami OKL range of non-isolated point-of-load DC-DC converters manufactured by Murata Power Solutions. The OKL2-T/12 and the OKL2-T/20 converters feature Murata's innovative inspectable Land Grid Array (iLGA) package that allows ease of probing of all signal pads and visual inspection that is not possible when conventional LGA packages are used. Both models are highly efficient with conversion efficiency typically in the range of 93 - 95%. The OKL2 series suit space-constrained distributed power applications such as embedded computing, networking, and telecommunications equipment.



The OKL2-T/12, measuring just 20.32 x 11.43 x 8.55 mm, delivers up to 12 Amp output, and the OKL2-T/20 provides 20 Amps from a 33.02 x 13.46 x 8.75 mm package. Both models have two variants that accommodate a wide input range around a nominal 5 VDC (2.4 - 5.5 VDC) or 12 VDC (4.5 - 14 VDC). The 5 V models provide a programmable output voltage in the range of 0.6 - 3.63 VDC and the 12 VDC models in the range 0.69 - 5.5 VDC.



Safety and protection features of the OKL2 series include under voltage lockout (ULVO), output short circuit, overcurrent, and overtemperature. Remote on/off is available with either negative or positive logic. The converters are also capable of being synchronized using an external signal. The output voltage is also capable of being sequenced, or tracked, to an external input voltage. Multiple converters can track their output voltages in this way up to the set Vout voltage.



The modules have UL/EN/IEC 60950-1 safety approvals for use in IT and computing equipment.



The OKL2 series is suitable for use in a wide range of environments with an operating temperature from -40 to +85°C.



Depending on the specific model and quantity, OEM pricing can range from as low as $6.50 to $7.50, with lead-times from stock to 10 weeks.



Contact details:

Murata Power Solutions, Inc.,

11 Cabot Boulevard Mansfield, MA 02048-1151, USA

Tel: +1-508-339-3000 Fax: +1-508-339-6356

e-mail:

[email protected]





About Murata Power Solutions

Murata Power Solutions (www.murata-ps.com) is headquartered in Mansfield, Massachusetts, with over 1,300 employees worldwide. Murata Power Solutions designs, manufactures and distributes DC-DC Converter, AC-DC Power Supply, Magnetic and Digital Panel Meter product lines, and offers these products in custom, standard and modified-standard variations. Murata Power Solutions products are typically used within electronic applications serving major global market sectors including telecommunications, computing and industrial controls.



Murata Power Solutions is a division of Murata Manufacturing Co., Ltd. (www.murata.com), a worldwide leader in the design, manufacture and sale of electronic components and power supply modules. Murata's devices are found in a wide range of applications including consumer and automotive electronics, and wireless devices. The company has employees and manufacturing facilities throughout the world.