PoE Controllers are suited for IP phones and WLAN systems.
Press Release Summary: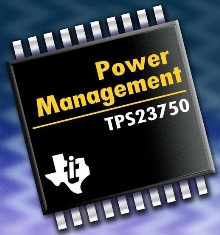 Combining TPS2375 powered device controller with primary side dc/dc PWM controller, TPS23750 manages discovery, classification, and delivery of dc power to end appliance. It supports non-isolated or isolated power supply topologies and withstands voltage transients up to 100 V. To meet power requirements of legacy systems that are not fully 802.3af-compliant, TPS23770 integrated PD controller includes under-voltage lockout turn-on voltage.
---
Original Press Release:

TI Introduces 100-V Power-over-Ethernet Single-Chip Controller for IP Phones and WLAN Systems


Highly Integrated Power IC Combines Power Device Control with DC/DC Controller to Simplify Design of Ethernet-Powered Applications

DALLAS (Aug. 15, 2005) - Texas Instruments Incorporated (TI) (NYSE: TXN) today announced its third generation Power-over-Ethernet controller technology that eases implementation of Ethernet-powered devices such as WLAN access points, IP phones, security and RFID scanners. See: www.ti.com/sc05166.

The TPS23750 is a highly integrated circuit (IC) that combines the functionality of TI's TPS2375 powered device (PD) controller with a primary side DC/DC pulse-width modulation (PWM) controller to effectively manage discovery, classification and delivery of direct-current (DC) power to an end appliance. Requiring a minimum number of external components, the flexible TPS23750 offers the highest levels of performance and flexibility to enable IEEE 802.3af functionality in a powered device.

The unique controller supports non-isolated or isolated power supply topologies required by WLAN access point systems, IP phones and other systems, including flyback, forward or non-synchronous low-side buck topologies.

The TPS23750 can withstand voltage transients up to 100 V and operates over an industrial temperature range of -40º C to 85º C. In addition, the controller is housed in a PowerPad(TM) package with an internal 0.7-ohm FET to minimize heat dissipation in the system. The TPS23750 also protects the powered system through thermal shutdown and current limiting.

The integrated device relies on a tiny external resistor to set the switching frequency, allowing greater flexibility for power stage component selection. A fixed 140-mA of in-rush current limit also eases powered device startup. The TPS23750's power conversion functionality includes many additional protection features, such as programmable soft start, hiccup-type fault limiting, a 50 percent maximum duty cycle and a true-voltage output error amplifier.

To meet power requirements of certain legacy systems not fully 802.3af-compliant, TI also announced its TPS23770 integrated PD controller, which includes an under-voltage lockout turn-on voltage that is compatible to legacy systems.

Leading Power over Ethernet and IP Phone Technology Portfolio

TI provides IEEE 802.3af-compliant powered device controllers and power sourcing equipment manager ICs, which manage power in multiple Ethernet ports. Leveraging its volume production capabilities, TI to date has shipped Power-over-Ethernet ICs to a broad base of customers around the world. TI's highly integrated TNETV1050 IP phone system-on-a-chip incorporates TI's Power-over-Ethernet technology, providing increased capability and reliability when implementing Ethernet-powered IP phones. TI is the leading supplier of VoIP semiconductor products.

Available Today

The TPS23750 and TPS23770 powered device controllers are available in volume today from TI and its authorized distributors. Packaged in a 20-pin, high-power, thin shrink small outline package (HTSSOP), suggested resale pricing for both devices is $1.75 each in quantities of 1,000 units. Evaluation modules of the TPS23750 and TPS23770, complete reference designs, application notes and technical documentation are available through power.ti.com/poe.

Texas Instruments Incorporated provides innovative DSP and analog technologies to meet our customers' real world signal processing requirements. In addition to Semiconductor, the company's businesses include Sensors & Controls, and Educational & Productivity Solutions.

TI is headquartered in Dallas, Texas, and has manufacturing, design or sales operations in more than 25 countries. More information is located on the World Wide Web at www.ti.com.

Please refer all reader inquiries to:
Texas Instruments Incorporated
Semiconductor Group, SC-05166
Literature Response Center
14950 FAA Blvd.
Fort Worth, TX 76155
1-800-477-8924

Trademarks

PowerPad is a trademark of Texas Instruments. All other trademarks and registered trademarks are property of their respective owners.

More from Mechanical Components and Assemblies