PoE Controller is suited for IP cameras and phones.
Press Release Summary: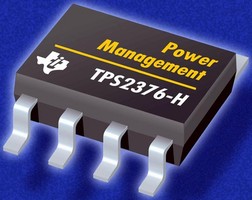 Supplied in an 8-pin SOIC package, TPS2376-H Power over Ethernet (PoE) controller has all features needed to develop IEEE 802.3af-compliant powered device. It has front-end architecture and lets designer implement non-standard powered device that draws up to 26 W of power from power source equipment with min of 52 V of input and 100+ m of CAT-5 Ethernet cable. Along with auto-retry and fault protection, safety features include programmable, 600 mA current limit with thermal shutdown.
---
Original Press Release:

TI Introduces First 26-Watt Power over Ethernet Controller for IP Surveillance Cameras and Phones



High-Power PoE Controller Opens Door to Next Wave of Ethernet-Powered Devices

DALLAS (September 22, 2006) -- Texas Instruments Incorporated (TI) (NYSE: TXN) today introduced a 26-watt Power over Ethernet (PoE) controller that allows Ethernet-powered devices, such as IP surveillance cameras, WiMAX access points and conference IP phones, to use twice as much power from a standard Ethernet cable - without the need of an AC line. TI will demonstrate the new power management integrated circuit (IC) in a high-power PoE reference design at the ASIS International security conference in San Diego, September 25-28. See: www.ti.com/sc06181.

TI's 8-pin, TPS2376-H controller contains all of the features needed to develop an IEEE 802.3af-compliant powered device with innovative safety features including a programmable, 600-mA current limit with thermal shutdown, auto-retry and fault protection. The high-power device also allows a designer to implement a non-standard powered device that draws up to 26 watts of power from power source equipment (PSE) with a minimum of 52 volts of input and over 100 meters of CAT-5 Ethernet cable. The TPS2376-H supports voltage transients up to 100 V at 600-mA. In addition, the device can operate at 24 V over an industrial temperature range of -40C to 85C, enabling support of emerging Ethernet-powered medical and industrial equipment.

Requiring a minimum number of external components, the flexible TPS2376-H is housed in a PowerPad(TM) package with an integrated 0.6-ohm FET to minimize heat dissipation in the system. The controller's simple front-end architecture gives designers increased flexibility when designing the back-end power stage topology. In addition, the TPS2376-H eases powered device startup capability with adjustable in-rush current limit and an auto-retry feature, which provides automatic start-up on fault. The controller's power conversion functionality includes several additional protection and low-noise features, such as 15-kV system-level electrostatic discharge (ESD) capability, adjustable undervoltage lockout and open drain power good reporting.

Leading Power over Ethernet Technology Portfolio

TI provides IEEE 802.3af-compliant powered device controllers and power sourcing equipment manager ICs, which manage power in multiple Ethernet ports. Leveraging its volume production capabilities and systems expertise, the company has shipped PoE circuits to a broad base of customers around the world. TI is a founding member of the PoETec Consortium, University of New Hampshire's PoE Consortium and chairs the High-Power PoE task force in the IEEE 802.3at standards committee.

Available Today

The TPS2376-H powered device controller is available in volume today from TI and its authorized distributors. Packaged in an 8-pin, SOIC package, suggested resale pricing for both devices is $1.25 each in quantities of 1,000 units. Evaluation modules of the TPS2376-H, complete reference designs, application notes and technical documentation are available through power.ti.com/poe.

About Texas Instruments

Texas Instruments Incorporated provides innovative DSP and analog technologies to meet our customers' real world signal processing requirements. In addition to Semiconductor, the company includes the Educational & Productivity Solutions business. TI is headquartered in Dallas, Texas, and has manufacturing, design or sales operations in more than 25 countries.

Texas Instruments is traded on the New York Stock Exchange under the symbol TXN. More information is located on the World Wide Web at www.ti.com.

Please refer all reader inquiries to: Texas Instruments Incorporated
Semiconductor Group, SC-06181
Literature Response Center
14950 FAA Blvd.
Fort Worth, TX 76155
1-800-477-8924

More from Thermal & Heating Equipment