Pocket Digital Refractometer has 0-53% range.
Press Release Summary: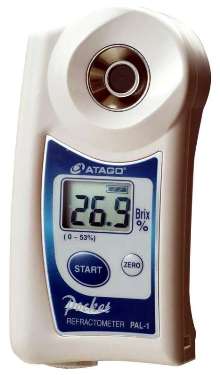 Portable due to its size of 2.71 x 1.22 x 4.29 in. and weight of 3.5 oz, Model PAL-1 features automatic temperature compensation and waterproof protection rated to class IP65. It runs off of 2 AAA batteries and provides 0.1% minimum brix indication with ±0.2% measurement accuracy over entire range. Operation requires user to apply 2-3 drops onto prism surface and press start key; brix % or concentration % is then displayed in 3 sec.
---
Original Press Release:

New Pocket Digital Refractometer - Wide Range 0-53%


Kernco Instruments Co., Inc. is pleased to introduce the Model PAL-1 portable digital refractometer with wide range of 0-53%. This model covers many different applications because of its wide range where previous models would only cover range of 0-35%, 0-45% and other ranges to cover various concentration.

This unit is low cost - only $325.00 yet with great accuracy and features normally found in the digital refractometers that are typically two or three times higher in price than the PAL-1 price.

Special Features and Advantanges:

o Hand Portable - 2.71"W x 1.22"D x 4.29"H; Weight 3.5 oz.
o Wide Range - 0-53% can be used in many applications in different plants
o Automatic Temperature Compensation
o Highwater Resistance (waterproof protection class IP65)
o Easy to use: Step 1 - Apply 2-3 drops onto the prism surface Step 2 - Press the start key Step 3 - Brix % or concentration % displayed in 3 seconds
o Sample easily emptied and cleaned. Can be cleaned under running water.

Applications:

o Fruit, Orchards, Produce Markets
o Beverage Plants
o Food Manufacturing
o Confectionaries
o Confectionary and Baking Plants
o Wine Making
o Checking % concentration of lubricants, cutting oil, coolants and organic solvents
o Paper Mills - for stock preparation and coating application
o Textile and adhesive manufacturers for sizing and glue mixtures
o Plus many other applications

Specifications:

Measurement Range: Brix 0.0 - 53.0%
Minimum Indication: Brix 0.1%
Measurement Accuracy: Brix ±0.2%
Measurement Temperature: 10-40°C Automatic Temperature Compensation
Power Supply: 2 x AAA Batteries
Waterproof Protection Class: IP65
Dimensions and Weight: 2.17"W x 1.22"D x 4.29"H; 3.5 oz

For additional information, write to:

Kernco Instruments Co., Inc.
420 Kenazo Avenue
El Paso TX 79928
Contact: John P Kelly, Sales Manager
Phone: 915-852-3375
Fax: 915-852-4084
Email: info@kerncoinstr.com
Internet: www.kerncoinstr.com

More from Electrical Equipment & Systems