Pneumatic Vibration Isolators feature 2,000 lb capacity.
Press Release Summary: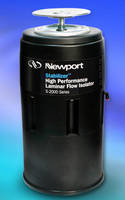 Featuring self-centering pendulum design, S-2000 Stabilizer Series vibration isolators include laminar-flow damping system and precision auto-leveling valves as well as optimized leveling indicators and recessed lifting channels. They deliver 1 Hz vertical resonant frequency and vertical isolation efficiency of 98% at 10 Hz. Horizontal isolation begins at 2.5 Hz and reaches 95% efficiency at 10 Hz. Units are available in 6 heights ranging from 16-28 in.
---
Original Press Release:

Newport Offers New and Improved Vibration Isolators - The S-2000 Stabilizer Series



Irvine, CA - April 23, 2009 - Newport Corporation, a worldwide leader in laser and photonic solutions that Make, Manage, and Measure LightSM, announces the release of new S-2000 Stabilizer(TM) Series of pneumatic vibration isolators. This new offering incorporates Newport's patented self-centering pendulum design, laminar-flow damping system, and precision auto-leveling valves to deliver unmatched vibration isolation performance. Additionally, the new S-2000 design incorporates extra features including enhanced leveling indicators, recessed lifting channels, and a significantly lower magnetic permeability design. These new features greatly improve the ease of use, functionality, and extend the overall value for Newport customers. The S-2000, with a 2000 lb load capacity per isolator, is an ideal solution for isolating optical tables, large inspection equipment, heavy machinery, and large area sub-floors.

According to Warren Booth, Vibration Control product manager for Newport Corporation, "This new isolator platform combines the best performance features of our legendary I-2000 isolator with additional benefits which improve the overall functionality and value to customers. In addition to the unique ergonomic features, the aluminum hybrid chamber design is significantly less magnetic than the previous I-2000 and other competitive models. We are also making available a standard offering of fully non-magnetic models as well as cleanroom compatible versions in the next several weeks. With our hybrid-chamber design approach, we are also able to provide customized heights and varying chamber volumes to address a wide range of isolation requirements."

The initial offering of the S-2000 will be available in six distinct heights ranging from 16 in. to 28 in. all equipped with precision re-leveling valves. The S-2000 Stabilizer performance delivers a 1Hz vertical resonant frequency and a vertical isolation efficiency of 98 percent at 10Hz. Horizontal isolation begins at 2.5Hz and reaches 95 percent efficiency at 10Hz.

For more information on Newport's new S-2000 Stabilizer Series Pneumatic Isolator, please visit: http://www.newport.com/S-2000.

About Newport Corporation

Newport Corporation is a leading global supplier of advanced-technology products and systems to customers in the scientific research, microelectronics manufacturing, aerospace and defense/security, life and health sciences and precision industrial manufacturing markets. Newport's innovative solutions leverage its expertise in high-power semiconductor, solid-state and ultrafast lasers, photonics instrumentation, sub-micron positioning systems, vibration isolation, optical subsystems and precision automation to enhance the capabilities and productivity of its customers' manufacturing, engineering and research applications. Newport is part of the Standard & Poor's SmallCap 600 Index and the Russell Microcap Index.

Company Contacts:

Kim Abair

Director of Global Marketing

Tel: 800-222-6440

E-mail: kim.abair@newport.com

Warren Booth

Sr. Product Manager, Vibration Control

Tel: 800-222-6440

E-mail: warren.booth@newport.com

More from Computer Hardware & Peripherals