Pneumatic Vacuum Conveyor Line Earns ATEX Certification for Safe Operation in Explosive Environments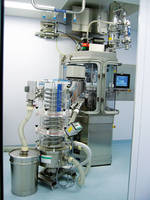 Entire Lineup of Volkmann Conveying Systems Proven Safe in Hazardous Zones
Bristol, PA: The entire lineup of pneumatic vacuum conveying systems from process equipment manufacturer Volkmann USA, Bristol, PA (https://www.volkmannusa.com/), has earned the ATEX certification. Documenting compliance with ATEX health and safety standards in rigorous third party testing, the ATEX-certified pneumatic vacuum conveyor systems are proven safe for use in potentially explosive atmospheres such as those involving combustible dust, flammable gases, and/or hybrid mixtures of solids and gas. The Volkmann vacuum conveyor systems comprise seven different material transfer approaches in lean, dense phase, and plug flow conditions to offer a safe conveying solution for nearly any material in any ATEX dust zone, gas zone, or hybrid zone.
Ideal for the safe transport of powders, pellets, flakes, granules, tablets, liquids, and other products, the ATEX-certified vacuum conveyors operate without electric power in a conductive design with pneumatically driven parts to prevent heat generation and eliminate potential sources of ignition. The line of pneumatic conveyors features the Inert Explosion-proof Pneumatic Vacuum Conveyors (INEX) for transfer under an inert atmosphere; the PPC Pharmaceutical Pneumatic Vacuum Conveyors for hygienic, cGMP-compliant processing; the modular VS Vacuum Conveyors for food ingredients with easy cleaning and changeover; and the PowTReX for additive manufacturing and metal powder processing. The ATEX-certified conveying systems may be tested in full size in the company's Bristol, PA test facility to simulate actual operating conditions.
For more information, contact Volkmann USA, 1900 Frost Road Suite 102, Bristol, PA 19007; 609.265.0101; contact@volkmannusa.com; www.Volkmannusa.com.
Media Contact:
Rafael Navarro at 609.265.0101, marketing@volkmannusa.com