Pneumatic Tube System helps ensure secure pharmacy deliveries.
Press Release Summary: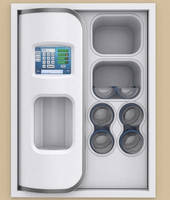 Through carousel that handles send and receive actions, Nexus™ Station provides quiet delivery of PTS carriers and optimized carrier management. Queuing functionality accommodates users' needs first by decoupling system operation from workflow. Locally stored, secure payloads offer ready access on demand, simplifying secure retrieval, allowing more time at bedside and minimizing impact on system resources. Repurposing existing infrastructure allows station replacement with minimal disruption.
---
Original Press Release:

Swisslog Launches Nexus(TM) Station for TransLogic® Pneumatic Tube Systems



The Nexus Station offers revolutionary capabilities for traceability and carrier management over legacy pneumatic tube system stations.



DENVER,  -- Swisslog Healthcare Solutions, a leading supplier of automation and software solutions for material transport, medication management and warehouse distribution, announces the launch of its Nexus(TM) Station at the American Society of Health-System Pharmacists (ASHP) Summer Meeting in Denver, Colorado this week. Designed to advance the state-of-the art for pneumatic tube system (PTS) dispatch and receipt, the Nexus Station offers clinical advantages for secure pharmacy deliveries, while incorporating user-friendly access and messaging.



"The Nexus Station is the first functional innovation for pneumatic systems in decades. ASHP is the perfect venue to launch this new technology because its features provide strong value for hospital pharmacies, while improving the patient and caregiver experience," notes Stephan Sonderegger, Swisslog Healthcare Solutions President. "Through its improved control and visibility of secure transactions, Nexus allows pharmacists to send and receive secure carriers without disabling the station, and with clear traceability."



Nexus Technology Solutions Platform

The Nexus Station is part of a broader Nexus Technology Solutions Platform that provides connection and integration across PTS hardware, software and accessories. The Nexus Platform has been designed to improve control and visibility of secure pharmacy transactions to patient care areas, reduce fulfillment times and improve pharmacy staff efficiency, resulting in a better experience for patients and caregivers. In addition to the PTS station, the Nexus Platform components include: Nexus PTS Control Software, Nexus Control Panel and NexSeal(TM) Carrier.



Nexus Station

As the next generation of PTS stations, the Nexus Station provides quiet delivery of PTS carriers and improved carrier management through a carousel that handles both send and receive actions. It will provide current and new Swisslog customers with the following additional features and benefits:



--  Queueing functionality accommodates users' needs first by decoupling system operation from workflow

--  Locally stored, secure payloads offer ready access on demand, simplifying secure retrieval, allowing more time at the bedside and reducing impact on system resources

--  Repurposing existing infrastructure allows station replacement with minimal disruption and downtime



To learn more about the Nexus Station, stop by Swisslog booth number 738 at the ASHP Summer Meeting, June 7-9, 2015 at the Colorado Convention Center, or visit the Swisslog website to learn more.



Celebrating 100 years of innovation in 2015, Swisslog Healthcare Solutions is the leading supplier of automation and software solutions for material transport, medication management and warehouse distribution in healthcare facilities. Swisslog has installed facility-wide and pharmacy automation systems in more than 3,000 hospitals worldwide, including more than 2,000 in North America. Denver-based Swisslog Healthcare Solutions offers total system design, manufacturing, installation and customer support - providing an integrated solution for lean workflow and operations that enhances information access, patient safety and cost efficiency.



About Swisslog

Swisslog designs, develops, and delivers best-in-class automation for forward-thinking hospitals, warehouses, and distribution centers. We offer integrated solutions from a single source - from consulting services to design, implementation and lifetime customer service. Behind the company's success are 2,300 employees worldwide, supporting customers in more than 50 countries.



Editorial Contact:

Kate Sigg

Marketing Manager

Swisslog Healthcare Solutions

Phone: 303.373.7836

More from Software