Pneumatic Torque Wrenches afford simple, safe operation.
Press Release Summary: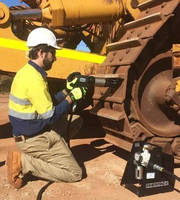 Along with max torque capacities from 1,000–6,000 lb-ft, PTW series features low-friction planetary gearbox design that eliminates hammer action, ergonomic design with weight-distributing handle, and low-noise (<85 dba) air motor. These square drive wrenches, capable of continuous rotation that eliminates time needed to re-stroke tools, carry CE certification and are designed for safety, reliability, and operational simplicity. Latter requires operator to set air pressure and pull trigger.
---
Original Press Release:

Tough, Safe and Productive Enerpac Pneumatic Torque Wrenches Join Global Controlled Bolting Family



Enerpac PTW series pneumatic torque wrench



Tough new pneumatic torque wrenches designed for optimum safety, simple operation and outstanding reliability have been introduced to the market-leading Enerpac global family of controlled bolting solutions.



The new Pneumatic Torque Wrenches – in maximum torque capacities from 1356-8135 Nm (1000-6000 ft lb) – share the global service, backup and reliability of Enerpac tools in widespread use throughout Australasia and worldwide.



Designed to optimise service life and minimise downtime, the square drive wrenches incorporate low-friction planetary gearboxes to minimize wear and extend uptime. They also feature commonality of motors and parts to facilitate maintenance in demanding industries including mining, oil and gas, construction, transport, ship building, manufacturing and power generation.



The CE certified tools, delivered with a calibration certificate to ensure accuracy and safety, complement the full global Enerpac ranges of controlled bolting solutions for joint assembly, controlled tightening and separation. Enerpac technologies span mechanical, pneumatic, electrical and high-pressure hydraulic (700 Bar/10,000 psi) technologies including hexagonal and square drive torque wrenches, tensioners and complementary solutions-based technologies all available from the one source.



"Because of their cost-efficient, simple and rapid high speed continuous rotation operation - using standard factory and mobile compressors found across a huge range of industries – Enerpac pneumatic torque wrenches will be especially suited to workshop tasks and on-site applications requiring speed and easy operation," says Enerpac Bolting Product Manager Andrew Marsh.



In addition to performance, durability and reliability, an outstanding advantage of the new tools is their availability and service backup through the proven and long-established Enerpac service and distribution network, says Mr Marsh. Service backup and product availability extends from global and national resources through to local and individual worksite experience of Enerpac's extensive network of service centre operations complemented by local Enerpac Territory Managers. "Enerpac's one-stop, solutions-based approach – containing a full range of optimum tool options in one compact range with proven service – is highly valued by companies seeking time-saving choice, consistency of quality and traceability of outcomes, says Mr Marsh.



Applications of Enerpac PTW torque wrenches (such as those shown above) include:



MINING AND TRANSPORT – Fixed plant and equipment, track maintenance, undercarriage maintenance, wheel and suspension maintenance, shovel maintenance, trays, pins, as well as flotation cells, mill liners, process equipment including screens, crushers, stackers, reclaimer, diesel engines, pumps, railway tracks, pinions, diffs



POWER GENERATION AND CONSTRUCTION/INFRASTRUCTURE PROJECTS – Including hydro, fossil, wind, solar array positioning and turbine bolts, foundation bolts, bearing bolts, turbine casings, blades, and tower segments including crane tower



OIL AND GAS, METAL INDUSTRY, WATER, WASTE WATER AND PROCESING EQUIPMENT – Including pipe flanges, valves, heat exchangers, man-way covers, blow out preventer (BOP), boilers, Christmas trees, pressure vessels, offshore plant and infrastructure



MANUFACTURING, FABRICATION AND PROCESS – including steel mills, paper mills, heavy manufacturing and process plants, pumps, furnaces, bearings, gat valves, rollers, crankshafts and couplings, boilers, condensers, compressors, heaters



Features and benefits of Enerpac pneumatic torque wrenches include:



• Ergonomic design with weight-distributing handle and simple shape providing easy handing for repetitive tasks while eliminating trap points for fingers and impact hazards with older, imprecise manual tightening methods 

• Simple operation – just set the air pressure and pull the trigger. Continuous rotation means no time is needed to re-stroke tools, saving time.

• Low-vibration design to reduce fatigue and the risk of vibration-related injuries, particularly hand (HAV) hazard. Planetary gearbox design eliminates hammer action.

• Low- noise air motor (under 85 dba) for quiet, consistent performance for indoor and outdoor applications.

• Common to all models, the proven air motor means fewer parts need to be carried by service centres.

• High commonality of drive and reaction arm options for lower inventory and speedier maintenance

• Convenience features including easily accessible tightening/loosening switch and standard 3m hose and standard reaction arm, complemented by a wide assortment of optional custom arms and accessories

• Availability with or without standard easily portable filter/regulator/lubricators to enhance reliability and durability under demanding service conditions



Enerpac offers a complete range of bolting tools including new UltraSlim hydraulic torque wrenches for difficult access applications and the widely used Enerpac S series square drive and W series hydraulic cassettes.



Enerpac offers complete families of advanced bolting technologies to provide powerful, precise and reliable non-impact fastening in diverse bolting applications including API flanges. Enerpac professional bolting technologies include:



• Rigid steel Low profile and Square drive type torque wrenches with outstanding power to weight ratios

• Full range of top quality sockets

• Bolt Tensioners

• Powerful and highly portable torque multipliers

• Portable nut splitters

• Efficient flange splitting and flange alignment tools

• Tough, reliable energy-efficient pumps including

• New-generation Z-class electric pump

• New-generation Z-class air pump



Enerpac is an international market leader in high-pressure hydraulics, with 28 offices in 22 different countries and more than 1,000 employees.  Enerpac has been established in Australia and New Zealand as a major supplier of high-pressure (700 bar) hydraulic equipment for 50 years, having nationwide service backup and a strong distribution network.



Enerpac is wholly owned by Actuant Corporation, a diversified industrial company serving customers from operations in more than 30 countries and is headquartered in Menomonee Falls, Wisconsin. Actuant trades on the NYSE under the symbol ATU. For further information on Actuant and its businesses, visit the Company's website at www.actuant.com



For more information about Enerpac equipment in Australia, please contact Enerpac, Block V. Unit 3, Regents Park Estate, 391 Park Road, Regents Park, Sydney 2143, ph Australia (61) Sydney (02) 9743 8988, fax (61) (02) 9743 8648, e-mail info@enerpac.com.au. For more information about Enerpac equipment in New Zealand please contact Neville Stuart on 0800 363 772, Intl: +64 21 66 77 16 or email neville@enerpac.co.nz



Enerpac is wholly owned by Actuant Corporation, a diversified industrial company serving customers from operations in more than 30 countries and is headquartered in Menomonee Falls, Wisconsin. Actuant trades on the NYSE under the symbol ATU. For further information on Actuant and its businesses, visit the Company's website at www.actuant.com



For information about this media release, please contact Brent Whyte at Whyte Public Relations Pty Ltd, Suite 102, 272 Pacific Highway, Crows Nest, Sydney 2065, Australia ph +61 2 9439 9329, fax +61 2 9439 9190, email whyte@bigpond.com.

More from Mechanical Power Transmission