Pneumatic Line Housing provides magnetic separation.
Press Release Summary: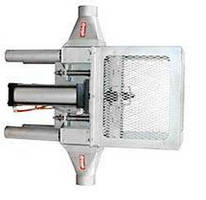 Intended for dilute-phase pneumatic systems, Self-Cleaning Pneumatic Line Housing protects processing machinery from tramp metal damage. Unit incorporates series of 1 in. dia rare-earth tubes on staggered centers, ensuring that all product flowing through housing makes repeated contact with magnets. Operational in horizontal or vertical orientation, sealed unit eliminates line pressure drops and surges, is leakproof to 15 psi, and is suitable for processing dry, powder, and granular materials.
---
Original Press Release:

New, Self-Cleaning Pneumatic Line Housing for Magnetic Separation



BOYNE CITY, MI, - Industrial Magnetics, Inc. announces their new, Self-Cleaning, Pneumatic Line Housing(PLH) for dilute-phase pneumatic systems to improve product purity and protect processing machinery from tramp metal damage.

An industry first, the PLH incorporates a series of 1 in. dia. rare-earth tubes on staggered centers, versus a single, center-flow cartridge circuit often prescribed for pneumatic line systems. This configuration ensures that all product flowing through the housing makes repeated contact with the magnets. The resulting capture rate of ferrous and weakly magnetic stainless contaminants far exceeds any other magnetic separator available for this type of application.

Now available in a new, Self-Cleaning style, the Pneumatic Line Housing can be routinely cleaned of captured metal contaminants by the simple flick of a switch, encouraging frequent and routine cleaning for optimum magnetic performance and eliminating the time-consuming and tedious process of removing collected metal by hand.

Operational in either horizontal or vertical orientation, the sealed unit eliminates line pressure drops and surges, is leak-proof up to 15 PSI and is suitable for processing dry, powder, and granular materials. Nedox® coating on the magnetic tubes provides protection from abrasive particulates or corrosive materials and helps prevent product bridging or clogging in the magnetic housing.

For more information on the PLH features and options, visit Industrial Magnetics, Inc. at www.magnetics.com, or contact 888.582.0821/231.582.3100 for more information on their magnetic separation products.

Visit Industrial Magnetics' Pneumatic Line Housing Online

About IMI: Industrial Magnetics, Inc. has served the industry since 1961, providing innovative permanent magnet and electromagnetic devices to meet customer's specific requirements in magnetic separation, automated material handling and holding, lifting, or fixturing applications.

For more information contact:

Dennis O'Leary

Industrial Magnetics, Inc.

231.348.5730 / 800.662.4638

doleary@magnetics.com

www.magnetics.com

More from Electrical Equipment & Systems