Pneumatic Cap Fastener drives caps, staples, or both.
Press Release Summary: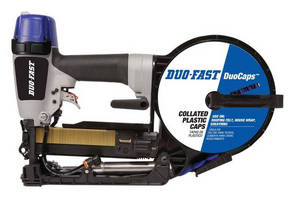 Firing staples and plastic button caps in one operation, DF150-CS aids installation of roofing felt, plastic sheathing, and house wrap materials. Inline magazine keeps tool compact and balanced for consistent and precise drives, while integral spool system enables stapler to offer 240 cap capacity that complements 110 staple capacity. In addition to 3 firing modes: bump, sequential, and staple-only, maneuverable tool offers adjustable depth of drive and adjustable exhaust cap.
---
Original Press Release:

Duo-Fast® Construction DF150-CS Stapler Leads Company's Entry into Pneumatic Button Cap Fastening



New in-line design offers best-in-class maneuverability and cap capacity!

SCHAUMBURG, IL - The debut of pneumatic cap fastening tools a few years ago held great potential in terms of efficiency and productivity for roofing contractors, siding installers and remodelers. While the concept made sense, the need for tools to hold and feed both fasteners and caps presented challenges. Early designs could be finicky to operate, aggravating to load and cumbersome on the job. With its first entry into pneumatic cap fastening, Duo-Fast® Construction has taken aim at pro users' most common complaints. The DF150-CS Cap Stapler is far faster than hand stapling, more maneuverable and reliable than competitor cap fastening systems and designed to get the job done right - every time.

Firing staples and plastic button caps in a single operation, Duo-Fast's DF150-CS is ideal for installing roofing felt, plastic sheathing and house wrap materials. An in-line magazine keeps the tool compact and balanced for consistent, precise drives every time. Along with great balance, the tool is one of the lightest in its class, which reduces user fatigue throughout the day.

Offering a significant boost to productivity on the job is Duo-Fast's exclusive 240-cap spool system. The system enables Duo-Fast to offer the best cap capacity in the category, a perfect compliment to the tool's 110-staple capacity. When it is time to add fasteners, an open-loading design makes reloading quick and easy and eliminates the hassles that previously accompanied the process.

The DF150-CS was also designed with versatility in mind. Users can easily switch between three firing modes - bump, sequential, and staple-only. The three-mode firing system is new to the industry and is certain to make a lot of end users happy. When driving both caps and fasteners, the 18-gauge stapler drives 3/8" crown staples 1" in length. In staple-only mode, the DF150-CS is capable of driving narrow crown staples from ¾" to 1-1/2" in length.

For ease-of-use on the job, Duo-Fast included a toolless quick-clear latch on the nose, adjustable depth of drive to dial in the tool for each application and an adjustable exhaust cap to keep air and debris out of users' faces. An adjustable belt hook keeps the stapler nearby when not in use.

Duo-Caps Fasteners
As with many Duo-Fast tools, the DF150-CS was designed in conjunction with an innovative fastener system for optimized performance in the most common applications. The patented Duo-Caps system features a proprietary button cap design that stays tight and flush over time to resist tearing of roof felt or house wrap materials and to resist water damage. The button caps are available in 240-count spools, while the 3/8" crown, 1" long galvanized staples are available in strips of 100.

Duo-Caps tools and fasteners are now available nationally through roofing and building supply distributors, tool distributors, independent dealers and online outlets. For more information, call 1-888-631-2020, or visit www.duo-fastconstruction.com. To catch the latest updates, be sure to follow Duo-Fast Construction on Facebook. Duo-Fast® is a registered trademark of Illinois Tool Works.

About Duo-Fast Construction
DUO-FAST Construction, a division of Illinois Tool Works (ITW) since 1999, is a world-leading producer of high-productivity tools and fasteners engineered for professional use on construction sites and for remodeling. Since introducing the world's first pneumatic stapling tool in 1947, DUO-FAST has expanded its family of innovative products to include air-powered nailers and staplers, cordless fastening systems, manual staplers and tackers, plus a complete range of genuine fasteners to support current and previous DUO-FAST tool offerings.

More from Materials