PMC Module delivers graphics for industrial applications.
Press Release Summary: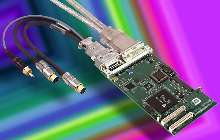 Provided with 16 MB of graphics memory and 235 MHz, 24-bit RAMDAC, P517 PMC graphics mezzanine card lets users include 2D/3D graphics into systems that accommodate PMC cards. It features Silicon Motion's SM731 graphics controller and is capable of 1,600 x 1,200 max resolution, 16.7 million colors, and 85 MHz max refresh rate. Able to control LCD/TFT, CRT or standard television screens, unit supports 2 independent digital display screens with same or different images.
---
Original Press Release:

New PMC Module Offers 3D/2D Graphics for Industrial Applications


Dallas, December 6, 2004 - A new PMC graphics mezzanine card from MEN Micro (www.menmicro.com) gives system designers and integrators an easy way to include high-resolution 2D/3D graphics into systems that accommodate PMC cards, such as VMEbus, CompactPCI, and PXI systems, or even bus-independent systems.

MEN's new P517 PMC card features the SM731 graphics controller from Silicon Motion. The device is capable of a maximum resolution of 1600 by 1200 pixels, 16.7 million colors and a maximum refresh rate of 85 MHz. The P517's graphics functionality makes it ideal for industrial visualization applications such as mechanical engineering, in-vehicle displays, medical imaging and others.

"In recent years, we've seen an increase in demand for high-resolution 2D/3D graphics displays on a wide variety of embedded systems. The capabilities of embedded systems have increased dramatically and the sophistication of the graphical interface must keep pace or users won't be able to take advantage of all of the system's capabilities," said Ernest Godsey, president of MEN Micro. "The PMC-based P517 gives system designers a graphics control subsystem on a module. This minimizes their development time and they are able to bring systems to market faster."

The P517 has 16 MB of graphics memory and a 235 MHz, 24-bit RAMDAC. It can support two independent digital display screens with either the same (DualScreen) or different images. Two low voltage differential signaling (LVDS) channels with a maximum pixel clock speed of 112 MHz can be used to either drive two distinct screens (DualMon) or a single high-resolution UXGA panel. The P517 can control LCD/TFT, CRT or standard television screens.

Multiple connectivity options on the P517 make it easy to integrate high-resolution graphics into an industrial system. For example, a digital video interface (DVI-I) for analog and digital LCD and CRT screens, as well as PanelLink functionality, is available on the P517's front panel. In addition, S-Video inputs and outputs, and a Composite Video output are also located on the front panel. The P517's two LVDS channels are accessible via an on-board connector or a rear-panel connector on the P517's carrier board.

Pricing and Availability

The P517 is available now from MEN Micro, Inc. Pricing starts at $594 for single units. In the United States, MEN Micro products are sold through a national network of technical manufacturers representatives. For sales information, call 512-267-8883, send faxes to 512-267-8803 or email sales@menmicro.com.

About MEN Micro

MEN designs, manufactures and sells board-level industrial real-time and embedded computer products. The flexibility inherent in MEN's standard products allows system platforms to be custom configured for a wide range of applications. In addition, the company develops custom boards and systems for OEMs, end users and system integrators. MEN's products include Embedded System Modules (ESM), VMEbus and CompactPCI compute platforms with Intel Pentium, Motorola 68000 or PowerPC processors, and a wide selection of Module, PC·MIP or PMC mezzanine I/O modules. The MEN product lines support the most widely used operating systems, including Windows NT, VxWorks, OS-9, QNX and Linux.

MEN was founded in 1982 in Nürnberg, Germany, as MEN Mikro Elektronik GmbH. The company has subsidiaries in France, MEN Mikro Elektronik SA; the United Kingdom, MEN Micro, Ltd., and the United States, MEN Micro, Inc. A network of technical distributors services and supports the rest of the world.

TRADEMARKS

Windows and Windows NT are trademarks of Microsoft Corporation. OS-9 is a trademark of Microware Corporation. VxWorks is a trademark of WindRiver Corporation. All other trademarks are the properties of their respective owners.

More from Transportation Industry Products