PMC Adaptor has 10Base-T and 100Base-TX capability.
Press Release Summary: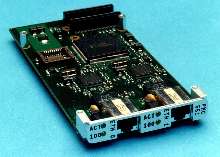 Model CL PMC/551 Dual Channel Fast Ethernet adaptor uses 2 Intel® 82551QM Fast Ethernet controllers, which have 3 Kbyte FIFOs and can operate full duplex. Single-size card is compliant with PCI specification and has bus master capability. It features 3.3 or 5 V signaling, 32-bit transfers, and operates at 33 MHz. Connection to Ethernet network is through RJ45 connectors and CAT 5 cabling. Boot EPROM socket is provided.
---
Original Press Release:

Dual Channel Fast Ethernet PMC Adaptor


January 2003 - Concurrent Technologies has announced the release of the latest addition to its range of networking PMC mezzanine cards - the CL PMC/551, a two channel Fast Ethernet adaptor with 10Base-T and 100Base-TX capability. The adaptor is targeted at applications that will benefit from reducing the CPU's Ethernet
processing load while maintaining low system latency.

The improved networking performance of the CL PMC/551 is achieved through the use of two Intel® 82551QM Fast Ethernet controllers. These controllers, which have 3Kbyte FIFOs and can operate full-duplex, enable the CL PMC/551 to exhibit improved performance by offloading the TCP, UDP and IP checksums and include support for TCP segmentation offload for operations such as Large Send. The controllers also have improved Bit Error Rate performance and improved dynamic transmit chaining with multiple priorities transmit queues.

The CL PMC/551 is a single-size card and is compliant with the CMC (Common Mezzanine Card) specification. The adaptor complies with the PCI specification, features 3.3 or 5 Volt signaling, 32-bit transfers, operates at 33MHz and has bus master capability. In addition, base address and interrupt selection is software
configurable. A boot EPROM socket is also provided. The adaptor's physical connection to an Ethernet network is through industry standard RJ45 connectors that allow connection to low cost CAT 5 cabling.

This board can be used with Concurrent Technologies' CompactPCI®, VME, Multibus II, or with any other PMC compliant host board. Operating systems supported include Windows NT®, Windows® 2000, Windows® XP, Windows® XP Embedded, VxWorks®, Linux® and UnixWare®.

There is a high-resolution picture available at
http://gocct.com/sheets/picture/hires/jpgimage/clpmc551 hires.jpg

Technical datasheet available at
http ://gocct.com/sheets/clpmc551.htm

For enquiries please contact:
John Sayer
Concurrent Technologies Inc.
Suite 130, 3840 Packard Road,
Ann Arbor, MI 48108
USA
Telephone: (734) 971 6309
Fax: (734) 971 6350
E-mail: jsayer@gocct.com

Concurrent Technologies is an international ISO 9001 company specializing in the design and manufacture of commercial-off-the-shelf and custom designed industrial computer boards for real-time embedded applications. The company, which was founded in 1985, has offices in the USA and UK. In addition to its original Multibus II product line the company has a wide range of high performance, Intel processor based VME and CompactPCI products, which are complemented by an extensive offering of PMC (PCI Mezzanine Card) products. The company offers support for many of today's leading industry standard operating systems. In January 2002, Concurrent Technologies fully acquired Omnibyte Inc who design and manufacture Motorola processor based VME products.