DC to DC Power Supplies (Converters)
PMBus-Compliant DC/DC Converter offers 300 W in 1/8 brick design.
Press Release Summary: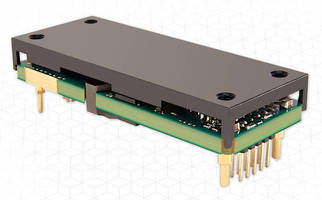 With 1/8th brick form factor and footprint conforming to Advanced Bus Converter (ABC) Digital standard, DBE series operates from 36–75 V input range and includes 3 single-output models that provide nominal 3.3, 5, and 12 V outputs. Each 300 W, fully regulated, digitally controlled DC/DC converter, suited for distributed power and intermediate bus applications, employs 32-bit ARM processor and offers PMBus-compliant digital system interface. Typ efficiency is 94.5% (12 Vout model).
---
Original Press Release:

Murata Introduces 300W PMBus Compliant 1/8th Brick



Murata today announced the Murata Power Solutions DBE series of 300 Watt fully regulated digitally controlled DC-DC converters packaged in an industry standard 1/8th brick format. The footprint conforms to the Advanced Bus Converter (ABC) Digital standard as specified by the AMP Group industry collaboration. Accommodating the internationally accepted telecommunications network voltage (TNV) standard input range from 36 – 75 Vin and providing a PMBus compliant digital system interface, the DBE series is designed for use in distributed power and intermediate bus applications. A 32-bit ARM processor contains Murata proprietary firmware designed specifically to control and manage the converter's operation.



The DBE series comprises three single output models providing the nominal output voltages of 3.3, 5 and 12 Vout. These highly efficient converters, typically 94.5% efficient (12Vout model), offer basic 2250 VDC isolation as required for some PoE applications. Two or more 12Vout units can be connected in parallel to achieve load sharing for increased Pout or N+1 operation.



The PMBus interface facilitates power management features that allow power system architects great flexibility to control critical operating parameters. By attaching the DBE to the systems I2C bus, an engineer can monitor Vin, Iin, Vout, Iout, and operating temperature. The PMBus can be used to set warning flags for temperature, Vin, Vout, Iout and allows the user to customize parameters such as Vout, Vin turn on/off thresholds, output over voltage protection, output current limit and ramp up characteristics to name a few.



A GUI (Graphical User Interface) and evaluation boards are available to assist the power engineer in designing a state of the art power system. Typical applications for the DBE series include MicroTCA, servers and storage applications, networking equipment, Power over Ethernet (PoE), fan trays, wireless networks and wireless pre-amplifiers.



Complementing this series of converters is the DVE series that has the same product characteristics but without the PMBus digital control features.



For further information and reader enquiries:



Aya Tonooka

Murata Europe Limited

One Fleet, Ancells Business Park 

Ancells Road

Fleet, Hampshire GU51 2UN, United Kingdom

Tel: +44 (0) 1252 811666 

E-mail: atonooka@murata.com

Fax:  +44 (0) 1252 811777 

Web: www.murata.com



Agency contact:

Robert Huntley

Publitek Limited

18 Brock Street

Bath, BA1 2LW, United Kingdom

Tel: +44 (0) 1225 470000

E-mail: robert.huntley@publitek.com

Fax:  +44 (0) 1225 470047 

Web: www.publitek.com



About Murata

Murata is a leading manufacturer of electronic components, modules, and devices. The complete range of this Technology house includes ceramic capacitors, resistors/thermistors, inductors/chokes, timing devices, buzzers, sensors and EMI suppression filters. Whilst the company is known as a global ceramic capacitor manufacturer, it is also the world leader in Bluetooth® & WiFi™ Modules, the world's no.1 manufacturer of board-mount DC-DC converters and is a key manufacturer of standard and custom AC-DC power supplies.



Established in 1944, Murata is headquartered in Japan and has European offices in Finland, France, Germany, Hungary, Italy, the Netherlands, Spain, Switzerland and the UK.



For more information on Murata, please visit: www.murata.com. You can also follow us on Twitter @MurataEurope or LinkedIn http://www.linkedin.com/company/murata-electronics, or join us on Facebook at http://www.facebook.com/MurataElectronics.

More from Software