PM 992 Parafilm minimizes moisture loss.
Press Release Summary: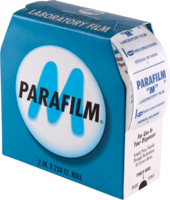 Used as stopper for laboratory equipment and as covering on irregular surfaces, Parafilm PM992 is available in 2 in. x 250 ft. size. Made of semi-transparent thermoplastic material, product is self-sealing and used in test tubes, beakers, vials, petri dishes and flasks.
---
Original Press Release:
Economical Parafilm Now Available
JM Science is now offering Parafilm (PM 992) in order to help meet everyday laboratory needs. For years, Parafilm has been a trusted name in scientific research and laboratory settings. Parafilm is a thermoplastic, self-sealing film that holds moisture loss to a minimum, and can be used as an economical covering or stopper for laboratory equipment such as: test tubes, beakers, vials, petri dishes, flasks and other various instruments and objects that have irregular surfaces. It can also be used as a shelf or tray liner in order to prevent slipping of bottles or instruments. Parafilm is odorless and semi-transparent. We offer size 2" x 250' at a competitive price.
For more information as well as pricing and availability, visit www.jmscience.com/general-lab-consumables
Please send all inquiries to:
Mr. John MacFarlane
2408 Bedell Rd.
Grand Island, NY 14072-0250
Send email sales leads to:
More from Electrical Equipment & Systems