Plunger Pumps offer flows up to 320 gpm.
Press Release Summary: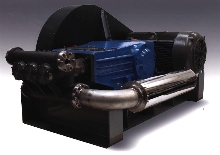 R-Series 150 Frame positive displacement pumps have duplex stainless steel liquid end construction and spheroidal graphite cast-iron crankcase offering vibration dampening and flame/spark resistance. Access from top permits servicing without removing head or plumbing. Models 157R060, 152R080, and 152R100 offer flows to 115, 200, and 320 gpm, respectively. All are ISO certfied and meet API 674 standards. They are designed for reverse osmosis desalination applications.
---
Original Press Release:
New 150 Frame Positive Displacement Pumps

CAT PUMPS is very pleased to announce the new R-Series 150 Frame positive displacement plunger pumps. Three new large capacity, energy-efficient models are available with flows up to 320 GPM. These have been designed specifically for Reverse Osmosis desalination applications with Duplex Stainless Steel heads and valve components and solid ceramic plungers. All pump models are ISO certified with many special build models that meet API 674 standards for the oil and gas industry. The R-Series models are available as pump only or as a custom designed Power Unit.

Features

The standard liquid-end construction is Duplex stainless steel or optional 316SSL providing extensive fluid compatibility and service life.

The crankcase is of SG cast-iron [spheroidal graphite] offering strength, vibration dampening and flame/spark resistance for durability and added protection in hazardous environments.

Special blend packings are housed inside a Packing Cylinder to assure proper alignment and optimum service life. Easy access from the top of the pump permits servicing without removing the head or plumbing. These 150 Frame models feature self-lubricating chevron packings that require no adjustment.

R-Series Model Selection



Model        Construction        Performance



157R060      DUPLEX SS          115 GPM, 1500 PSI     360 RPM

                                       OR

                                100 GPM, 2700 PSI     310 RPM



152R080      DUPLEX SS          200 GPM, 1300 PSI     355 RPM

                                      OR

                                160 GPM, 1650 PSI     280 RPM 



152R100      DUPLEX SS          320 GPM, 825 PSI      360 RPM

                                      OR

                                260 GPM, 1000 PSI     295 RPM
For more information on other models, please contact Darla Jean Thompson, Director of Marketing, CAT PUMPS 1681 94th NE Lane, Minneapolis, MN 55449-4324 P: 763-780-5440 / F: 763-780-2958 e-mail: sales@catpumps.com or darlajean@catpumps.com; web site: www.catpumps.com
More from Electronic Components & Devices