Plunger Pump suits continuous-duty applications.
Press Release Summary: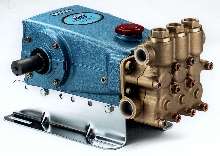 With 18 gpm, 1,200 psi rating, 15 Frame Model 1540 is suited for stationary installations as well as cart, truck, and trailer mounts. It incorporates TNM connecting rods; stainless steel plunger rods; heavy-duty, 10-bolt, split manifold; and Hi-Pressure Seals. Unit is also available as custom-designed Power Unit with heavy-duty, 3/8 in. steel base, ¼ in. channel steel bracing, power supply pump, pulleys, and belts.
---
Original Press Release:
Powerful Mid-Size Plunger Pump Meets Market Needs

CAT PUMPS has responded to the market need for higher performance in a mid-size pump. The Model 1540 is the perfect answer with a rating of 18 GPM, 1200 PSI. This 15 Frame pump is designed for continuous-duty applications such as automatic vehicle washing, hydro-excavating, sewer and pipe cleaning, coolant flushing and central cleaning systems. The compact footprint and moderate weight make it ideal for stationary installations, as well as, cart, truck and trailer mounts.

These pumps are designed with close manufacturing tolerances and feature high quality drive-end and liquid-end components common in all CAT PUMP models. Special high-strength TNM connecting rods, durable stainless steel plunger rods, heavy-duty, ten-bolt, split manifold and special blend Hi-Pressure Seals complete a pump that delivers near maintenance-free operation and exceptional life.

The model 1540 is also available as a custom designed and tested Power Unit that includes a heavy-duty, 3/8" steel base with 2 mill epoxy powder coated, finish, 1/4" channel steel bracing, power supply (electric, gas, hydraulic, gearbox or diesel), pump, pulleys, belts and system accessories. Available in 2-4 weeks.

Contact CAT PUMPS for more information on this new Model or a catalog of our complete line of pumps and accessories. Darla Jean Thompson, darla.jean@catpumps.com P-763-780-5440 F-763-780-52958 e-mail techsupport@catpumps.com visit our web site www.catpumps.com
More from Transportation Industry Products