Pluggable Terminal Blocks 0225 Series - Fast Wiring & Space Saving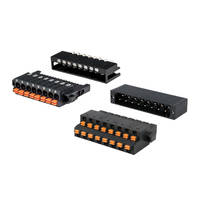 Dinkle 0225 series high density connectors (up to 40 channels) are suitable for I/O system and high end control products. The Push-In Connection uses double-sided S-Cage PID (push-in design) technology to assure vibration resistance: this design is engineered with high tensile spring technology (Dinkle's patent) that reduces the risk of wire disconnection under critical operative environments. Compared to screw type terminal blocks, Dinkle PID technology saves up to 80% of labor time used during wire harnessing.
A special housing streamline layout lets users plug into sockets more efficiently than traditional pluggable types. Variety of smart locking flange designs ensure plugs are effectively fasten down into sockets and easy maintenance in an industrial environment. Dinkle 0225 pluggable Push-In Connection series has a 3.50/5.08mm pitch. 0225 sockets come fitted out with 2.6mm wide flat pins that not only improves socket secureness on PCB, but also enhances communication/power conductivity.
Double-layer connector selection lets users add more instruments to the system without taking up much space. 0225 plug/socket also has built-in LED indicator option to save up to 90% of labor time used during conductivity verification.
UL Rated: 300V/8A~300V/15A
IEC Rate: 320V/14A~600V /18A
Interested please contact:
Dinkle Corporation, USA
12613 Executive Drive Suite 704
Stafford, TX 77477
Phone: 832-539-4703
Contact:
Albert Yang
Sales Manager
email: info.us@dinkle.com
Contact This Company Download Spec Sheet
More from Architectural & Civil Engineering Products