Plug Valve handles high temperatures.
Press Release Summary: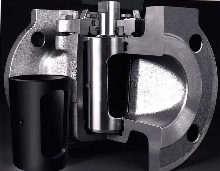 Soft-seated XeniTH sleeved plug valve handles high temperature process applications up to 600 deg F. It uses chemically inert Tufline-600 as primary and secondary seal material and tertiary cartridge for third seal to atmosphere. Material allows valve to achieve tight shut-off at high temperatures while it increases hardness, reduces deformation under load, and reduces creep. Also available are FT-seated butterfly valves, which can be used at higher temperatures.
---
Original Press Release:
Xomox Introduces High Temperature Sleeved Plug Valve For Variety Of Processing Applications
CINCINNATI, April 8 - Xomox, a manufacturer of a wide variety of quarter-turn valves for 45 years, now offers the soft-seated XeniTH sleeved plug valve for applications up to 600 degrees F. XeniTH sleeve plug valves are aimed at a wide variety of high temperature process applications, including those in mining (steam, ore leaching, mineral slurries, autoclaves), refining (HF acid, steam, light hydrocarbons), chemical (hot acids, various chemicals), food (steam peelers, hot vegetable oil), plastics (resins, polymers), tire manufacturing (steam) and paper (steam, hot air) industries. The new XeniTH plug valve uses Xomox's proprietary Tufline-600 as a primary and secondary seal material as well as a tertiary cartridge for a third seal to atmosphere. Tufline-600 is a chemically inert material that allows the valve to achieve tight shut-off at temperatures up to 600 degrees F. It offers enhanced properties, including increased hardness, reduced deformation under load, and reduced creep. The XeniTH family of high temperature Xomox products includes not only sleeved plug valves, but also soft seated and FT-seated high performance butterfly valves. They are intended for use in applications where operating temperature exceeds traditional limitations for PTFE and the company's Tufline-475 seal material. A XeniTH valve is designed for applications where there is a need for tight shut-off at temperatures between 475 and 600 degrees F Xomox is headquartered in Cincinnati, where it also has a major manufacturing facility. Other operations are in Lindau, Germany; Chihuahua, Mexico; Szekesfehervar, Hungary; and a joint venture in Tiruchirapalli, India. All major Xomox facilities are certified to ISO-9000. Engineering design centers in Cincinnati and Lindau are certified to ISO-9001. Xomox valves meet ANSI, JIS and DIN standards for global applications. Xomox is an operation of Crane, Co., a manufacturer of engineered industrial products, including valves for processing industries that complement the Xomox product offering. For more information, contact:
Doug Drummond, NES Jamie Davidson
Xomox Corporation
4444 Cooper Road
Cincinnati, OH 45242
513.745.6000
www.xomox.com