Plug-In Solar Panel maintains charge of 12 V vehicle batteries.
Press Release Summary: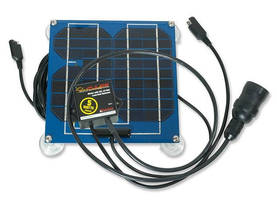 Able to maintain up to four 12 V batteries connected in parallel, SP-5 OTR Solar Charger Maintainer harnesses solar power to reverse normal loss of battery power, sulfation buildup, and parasitic draw on erratically used vehicles. This 5 W, commercially rated solar panel, by temporarily attaching to vehicle's exterior hood via 4 suction cups and plugging directly into OBD connector for power, can be installed and removed within seconds.
---
Original Press Release:

PulseTech® Products Introduces New Plug-and-Charge Solar Charger Maintainer for 12V Batteries



SOUTHLAKE, TX – Fleet managers and sales dealers for buses, trucks, heavy construction equipment as well as RV owners can eliminate jump starts and extend battery life with the new SP-5 OTR Solar Charger Maintainer–a new 5 Watt system that utilizes a simple, temporary plug-in instead of a permanent, more complicated installation.



The easy-to-use OTR attaches to the vehicle's exterior hood with four suction cups and plugs directly into the OBD connector for power.  The set up allows for easy installation and removal in seconds.



A perfect solution for vehicles that sit outdoors and unused for days, weeks or even months at a time, the SP-5 OTR harnesses the power of sunshine to reverse the normal loss of battery power, sulfation buildup and parasitic draw on erratically used vehicles. The SP-5 OTR is so efficient it typically would only require a couple of hours of sunlight to maintain the connected batteries.



Manufactured by PulseTech® Products Corp , the SP-5 OTR is a commercially rated solar panel which provides clean, renewable energy for trucks and larger public transportation vehicles. Half the size of comparable solar chargers, the SP-5 OTR has the ability to maintain up to four 12V batteries connected in parallel and replaces the power loss from electrical accessories that occurs even when the ignition is turned off . PulseTech's patented Pulse Technology also removes damaging sulfate crystals from the battery plates allowing the battery to receive a full charge and operate at top efficiency.



"A large problem, especially for those vehicles sitting on lots to be sold is how fast batteries can lose their charge," said Rick Miller, PulseTech Sales Manager.  "The SP-5 OTR is a simple and effective solution, that can be  temporarily coupled via the OBD connector to provide daily maintenance and be removed for future dealer use when the vehicle is sold."



As a battery ages through use or sits unused for periods of time, lead sulfate crystals can enlarge and build-up excessively to the point where they create a physical barrier across the surface of the battery plates. Before long, this build-up can become so dense that a battery is no longer able to accept or release energy



PulseTech's exclusive, patented Pulse Technology cleans (desulfates) the plates and brings the battery to a like-new state capable of holding a full charge. Pulse Technology has proven to extend lead acid battery life up to five times what is typical.



The SP-5 OTR works with all types of 12V batteries, including conventional flooded, gel, AGM and VRLA types.  The solar maintenance charger utilizes higher efficiency, higher quality crystalline silicon cells that pack more power per square inch than standard amorphous "thin film" solar cells. Typically "crystalline" solar cells have a footprint that is 50% smaller than the amorphous cells that are commonly used. It is protected with a clear, polyurethane plastic coating mounted on a laminated aluminum substrate to make them virtually indestructible and impervious to weather, aging and damage from bumps and knocks.



MSRP for the SP-5 OTR is $249.99 and is available through www.pulstech.net , distributors and resellers.



About PulseTech Products Corporation

Maximizing battery performance while minimizing battery-related expenses for individuals, companies, fleets and military forces since 1994, PulseTech offers a full line of products that will help protect the environment from the hazards of lead waste from discarded lead-acid batteries.

More from Cleaning Products & Equipment