Plenum Fans have backward curved airfoil wheels.
Press Release Summary: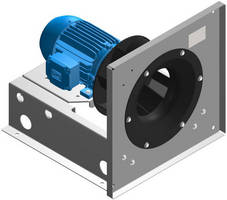 TEK Plenum Fans slide into field-erected or factory-built air handling units or plenums and are designed to pressurize plenum in which they operate. Suited for supply or return air applications, fans employ injection molded GRP polyamide TEK wheel with backward curved airfoil design. Quiet and modular, design conserves space by eliminating traditional scroll housings, transitions, and diffusers normally found within plenum. Fans also offer non-overloading power characteristics.
---
Original Press Release:

TEK Plenum Fans



Continental Fan is pleased to introduce TEK Plenum Fans, featuring TEK backward curved airfoil wheels, HVAC's quietest and most efficient OEM impellers. TEK Impellers combine precision injection molding techniques with modern high strength plastics to produce a wheel that is stronger than steel, yet half its weight. They deliver fan performances approaching aerodynamic perfection.

TEK Plenum Fans slide into field erected or factory built air handling units or plenums. They are designed to pressurize the plenum in which they operate, and are suited for supply or return air applications. This design saves space by eliminating traditional scroll housings, transitions, and diffusers normally found within a plenum.

FEATURES & BENEFITS

Easy-to-install

Modular construction, compact design

Quiet, highly efficient performance

Injection molded GRP polyamide TEK wheel
- Backward curved airfoil (BCA) design
- Non-overloading power characteristics

TEFC industry duty motors

Suitable for supply or return applications

The TEK Plenum Fan, another Air Moving Solution from:

......... better AIRFLOW by DESIGN

More from Thermal & Heating Equipment