Plenum Barrier Board is used to enhance sound isolation.
Press Release Summary: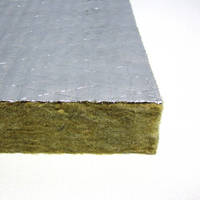 Plenum Barrier Board is ideal for universities between classrooms and health care facilities between patient, exam and treatment rooms. Unit comes with stone wool barrier which can be installed above interior partitions. Product is used to enhance privacy between rooms in commercial applications. Board is suitable for new construction or post-occupancy remediation.
---
Original Press Release:
Rockfon Introduces Plenum Barrier Board
Rockfon introduces its new Plenum Barrier Board, created to improve sound isolation and privacy between rooms in commercial interiors. Combining plenum barriers with the proven performance of Rockfon ceiling systems, high sound isolation – tested up to STC 52 – can be achieved between adjacent rooms without needing to build bulkheads above demountable partition systems or extend the walls to full height.
"Rockfon® Plenum Barrier Board helps modern buildings comply with more stringent sound isolation requirements in acoustic standards," says Gary Madaras, Ph.D., Assoc. AIA, Rockfon's acoustics specialist. "Using ceilings alone with an open plenum above to block sound no longer meets occupants' expectations and does not comply with performance requirements in most U.S. and Canadian acoustic standards."
Used in either new construction or post-occupancy remediation, Rockfon Plenum Barrier Board is well suited for corporate settings between private offices and meeting rooms, schools and universities between classrooms, and health care facilities between patient, exam and treatment rooms.
Rockfon Plenum Barrier Board's foil-faced, stone wool barrier installs quickly above interior partitions. It is placed vertically in the plenum above the ceiling along interior walls that stop at ceiling height. The lightweight material is easy to cut and lift into position. It conforms around pipes and ducts, and expands and contracts with deflection.
In addition to its acoustic qualities, stone wool resists humidity, fire and water. It has no nutritional value and therefore, it provides no sustenance to harmful microorganisms or mold. These attributes and the advantages offered by Rockfon complete ceiling systems contribute to safe, healthy, sustainable, comfortable and beautiful buildings.
To learn more about Rockfon Plenum Barrier Board, acoustic stone wool ceiling products, metal ceilings and suspension systems, please visit www.rockfon.com. To learn more about optimized acoustics, please see www.optimizedacoustics.com. For additional support, please call 800-323-7164 or email cs@rockfon.com.
About Rockfon
Rockfon is part of the ROCKWOOL Group and is offering advanced acoustic ceilings to create beautiful, comfortable spaces.
At the ROCKWOOL Group, we are committed to enriching the lives of everyone who comes into contact with our solutions. Our expertise is perfectly suited to tackle many of today's biggest sustainability and development challenges, from energy consumption and noise pollution to fire resilience, water scarcity and flooding. Our range of products reflects the diversity of the world's needs, while supporting our stakeholders in reducing their own carbon footprint.
Stone wool is a versatile material and forms the basis of all our businesses. With approximately 10,500 passionate colleagues in more than 38 countries, we are the world leader in stone wool solutions, from building insulation to acoustic ceilings, external cladding systems to horticultural solutions, engineered fibers for industrial use to insulation for the process industry and marine and offshore.
For more information, visit www.rockfon.com.
More from Laboratory and Research Supplies and Equipment