Platforms come with Windows, Linux, or Solaris(TM) OS.
Press Release Summary: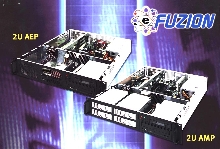 eFUZION-2U/AEP, 3.5 in. rack mount, Server Application Platform provides multi-device support and up to 3 full-length, full-height 32bit/33MHz PCI expansion slots. eFUZION-2U/AMP scalable ServerWorks, Pentium III, Server Class Application Ready Platform includes Intel Server Division SCB2-SCSI motherboard. Both models offer integrated 10/100baseT Ethernet controllers, integrated Intel 3D Graphics, and active system monitoring.
---
Original Press Release:
I-Bus / Phoenix Launches Application-Ready 2U Performance eFuzion Platforms

- Competitively priced system level application ready platforms, delivered filly integrated with OS installed

- Scalable, entry-level, mid-range and high-performance server solutions

- Extensive range of qualified configuration options for Windows, Linux and Solaris(TM) operating environments

- Standard range of added value options - UPS, rack cabinet, application specific boards and software all available with corporate branding

- Available front IBP facilities worldwide in 10 days AAO on purchases of up to 25 units

San Diego, CA - I-Bus/Phoenix (IBP) introduces eFUZION-2U application ready platforms available with Windows NT 4, Windows 2000 or Red Hat Linux Operating systems. Delivered as market ready solutions with all hardware and software integrated, the eFUZION-9U line is ideal for enterprise class applications requiring space conscious, scalable, server platforms.

"System scalability and flexible configuration options means eFUZION platforms are perfectly suited to project-by-project sales, where platform stability and enhanced life cycle maintenance is key to achieving true product value and return on investment," said John Chan, IBP's VP of Engineering.

I-Bus/Phoenix's 2U eFUZION rack mount solutions are configured to enable OEM, VAR and Systems Integrators to leverage industry standards based technology and reach markets quicker to minimize product investment pressures. IDE or SCSI disk drives, Networking, and Modem options are all offered as factory-fit options. Combo FD and CD-ROM, CD-RW or DAT drives are also available to enhance the turnkey standard system configurations. In addition, SCSI RAID controllers are available options and SCSI RAID (levels 0, 1 or 5 with hot-spare) can be set up to improve data redundancy.

IBP's 2U performance line consists of the eFUZION-2U/AEP and eFUZION-2U/AMP.

The 2U/AEP is a 2U high (3.5") rack mount, cost effective Server Application Platform, based on the Intel Server Division S815EBM1 board. eFUZION-2U/AEP allows OEMs, VARs and Systems Integrators to provide 2U cost and space conscious platforms for enterprise class customer premise applications. The 2U/AEP comes complete with integrated Intel 10/100baseT Ethernet controller, Intel 3D Graphics and active system monitoring features. The IBP designed and manufactured enclosure provides multi-device support and up to three full-length, full-height 32bit/33MHz PCI expansion slots using a riser board with exceptional internal cooling.

The Intel Server "Bonham" board offers economical uni-processor support (max 1 GHz). Ideal for front-end applications like content servers, video/audio streaming, low-density telephony applications or network monitoring, the AEP is a turnkey system designed to meet the present and future needs of converging technologies.

The 2U/AMP is a powerful and scalable ServerWorks, Pentium III, Server Class Application Ready Platform ideal for processor intensive applications requiring multiple 64bit PCI expansion slots, integrated RAID storage and/or power supply redundancy with scalability, in a space-efficient and cost-effective 2U (3.5" high) unit. eFUZION-2U/AMP includes the Intel Server Division SCB2-SCSI ("Coos Bay") motherboard, offering extremely high levels of integrated functionality with ServerWorks processing power for dual Pentium III processors, including the new 1.26GHz + models with 512k L2 Cache. The 2U/AMP offers dual integrated 10/100baseT Ethernet controllers, integrated Intel 3D Graphics (8MB AGP) and active system monitoring, with remote GUI access features. The IBP designed and manufactured enclosure provides multi-device support, up to 3 full-length, full-height PCI and three half-height, half-length PCI expansion slots. The triple pier PCI bus support on the SCB2-SCSI board allows up to two 64bit/66MHz PCI boards to be used in this system. Exceptional cooling is provided by three high-speed, high MTBF cooling fans, mounted in a cross-bracing bracket which directs cooling air to required areas and stiffens the chassis for better shipping characteristics.

For more information on FUZION and other I-Bus/Phoenix products, please visit our newly re-designed company web site at www.ibus.com or e-mail Us at info@ibus.com.

I-Bus/Phoenix is an ISO-9001 quality-certified global leader in the design, manufacture and support of high performance, industrial-grade power and computing systems. In addition, I-Bus/Phoenix offers customized, collaboration-oriented services focused on meeting the needs of OEMs, including purchasing collaboration, stable supply-chain management, configuration control, and complete system integration and test services. With our "'Best of Breed" partners program, we offer complete application ready solutions utilizing technologies developed both in-house and by third party industry leaders, delivered in a collaborative environment to provide the OEM customer a level of global support that ensures success, allowing OEMs to focus on their core competencies, rather than on managing a diverse set of independent vendors.

I-Bus/Phoenix is a Maxwell Technologies Company. Maxwell Technologies applies industry-leading capabilities in power and computing to develop and commercialize electronic components and power and computing systems for customers in multiple industries, including transportation, telecommunications, consumer and industrial electronics, medical and aerospace.

For further information contact:

Denise Serrano

I-Bus/Phoenix

8888 Balboa Avenue

San Diego, CA 92123

Tel: +1 (858) 503-3077

Fax: +1 (858) 503-3005

Email: dserrano@ibus.com


United Kingdom: Cathy Clark, I-Bus/Phoenix,
Tel: +44 (0) 1243 756441 Email: sales@ibus.co.uk

France: Catherine Kervarec, I-Bus/Phoenix,
Tel: +33 (0) 493 004360 Email: ventes.fr@ibus.com

Germany: Ulrich Diehl, I-Bus/Phoenix,
Tel: +49 (0) 814 246790 Email: verkauf@ibus.com