Floor, Lift Truck and Conveyor Scales
Platform Scale handles cargo up to 20,000 lb.
Press Release Summary: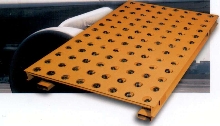 Swivel Caster Scale platform measures 9 ft long x 11 ft wide with undercarriage that adjusts from 19-23 in. high. Features include welded steel channels, heavy-duty tread plate, stainless steel junction box with 25 ft indicator cable, and 113 swivel casters with heavy cast steel yokes. Reinforced thermoset plastic wheels have grease fitting and dust shield. Four 5,000 lb weigh bar sensors deliver a total weight capacity of 20,000 lb.
---
Original Press Release:

New High-Capacity Swivel Caster Scale Offers More Accuracy and Cargo Handling Convenience


Fairmont, MN-March 6, 2004-Avery Weigh-Tronix, Inc. introduces its new SWIVEL CASTER SCALE, a durable platform scale designed for easier handling of large cargo up to 20,000 lbs. The Swivel
Caster Scale is the first of its type to offer the accuracy and reliability of the patented Weigh Bars sensor technology, for high accuracy and longer service life.

"The Swivel Caster Scale delivers unprecedented accuracy and ease of handling for the cargo industry," said Tim Peterson, Product Manager. "This scale marks the first implementation of Weigh Bar technology in a scale of this type, which will offer significant increases in weighing accuracy along with improved
service life." Peterson noted data from a 3-year study that put failure rates for the Weigh Bar at a mere 0.5% versus the 3% -5% failure rates of competitive load cells. Studies also indicate superior rates for errors, reflecting greater accuracy for the Weigh Bar technology.

The Avery Weigh-Tronix Swivel Caster Scale measures approximately 9-ft long by 1l-ft. wide, with an
undercarriage that adjusts between 19-in. and 23-in. high. The scale is designed for extreme durability, featuring welded steel channels, heavy-duty tread plate, a stainless steel junction box with 25-feet of indicator cable, and 113 swivel casters with heavy cast steel yokes. Each reinforced thermoset plastic wheel has a grease fitting and dust shield. Wheels and yokes are supported on ball bearings and fastened with four bolts each, for easy replacement and service. Four 5,000 lb. Weigh Bar sensors deliver a total weight capacity of 20,000 lbs.

The Avery Weigh-Tronix Swivel Caster Scale is one of three new product introductions for the cargo industry.

Avery Weigh-Tronix is a pioneer in the design and manufacture of innovative precision electronic weighing devices and control systems.

For further information, contact: Avery Weigh-Tronix, Inc.,
1000 Armstrong Drive, Fairmont, MN 56031. Phone: 507-238-8253. Fax: 507-238-82.58. email: industrial@weigh-tronix.com www.wtxweb.com

More from Electronic Components & Devices