Platemounting Tapes suit flexographic printing industry.
Press Release Summary: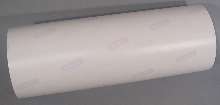 SteelMaster LT adhesive holds photopolymer plates .067 in. and thinner onto steel cylinders. Able to hold during print run, it removes with ease upon job completion. Non-building adhesive maintains initial level of holding power over time. Suited for combination printing, medium-density 52121 Softprint SteelMaster foam tape is coated with SteelMaster LT and allows for fine dot reproduction of less than 5% without sacrificing pin holing on solid areas.
---
Original Press Release:

tesa Platemounting Tapes...When Image Counts


CHARLOTTE, NC - September 25, 2003 - tesa tape, inc., a global leader in the manufacture and supply of pressure-sensitive adhesive tapes, today announces the debut of two new innovations for the flexographic printing industry. These new developments - a unique adhesive formulation and a new foam backing - are enhancements to the company's expansive line of platemounting tapes for solid, process, and combination printing applications.

New Adhesive
Unlike most pressure-sensitive tape manufacturers, tesa chemists formulate specialized adhesives based on customer need. The company's newest adhesive, tesa SteelMaster LT, was developed specifically for holding thin photopolymer plates (.067" and thinner) onto steel cylinders. Unique by design, tesa Steelmaster LT offers a delicate balance of holding power during the print run combined with easy removal upon job completion. tesa SteelMaster LT is a non-building adhesive, meaning that its initial level of holding power when first applied to the cylinder does not increase over time. It is "ready to roll" once applied with no curing time needed!

The characteristics of tesa SteelMaster LT offer abundant benefits to the flexo printer:
1. less plate destruction during demounting due to easy removal characteristics
2. reduced material costs due to less plate replacement
3. no curing of the adhesive means faster turn around time on job changeovers

All equaling lower costs and increased productivity!

New Foam
For critical combination printing, tesa introduces a new medium-density foam tape, tesa 52121 Softprint SteelMaster. Coated with new tesa SteelMaster LT adhesive, tesa 52121 is firm enough to produce vibrant solid coloring, yet soft enough to produce intricate, crisp process reproduction. This new tape is particularly effective on print runs duplicating reverse type or small font type. tesa 52121 is an optimal choice for printers utilizing digital plate making technology, as the tape's density allows for fine dot reproduction of less than 5% without sacrificing pin holing on solid areas.

tesa 52121 joins a family of 20-mil platemounting tapes for flexo printing applications. These include tesa 52120 hard foam tape for solid and half-tone printing, tesa 52122 soft foam tape for screen and process printing, and now tesa 52121 medium-density foam tape for critical combination printing.

tesa tape, inc. manufactures and markets pressure-sensitive adhesive tapes for a variety of industrial applications. Product lines include: double-sided tapes, masking tapes, packaging tapes, and other commonly used tapes (such as duct and cellophane). tesa has its regional North American headquarters in Charlotte, NC, with manufacturing facilities in Middletown, NY; Sparta, MI; and numerous other plants around the world. tesa...offering tape solutions beyond the roll!

More from Cleaning Products & Equipment