Plasticizing System for PLA allows for longer working life.
Press Release Summary: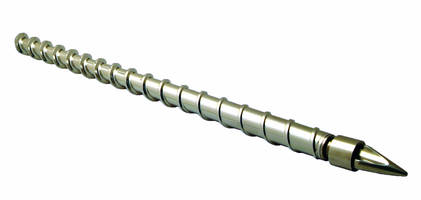 Used for processing polylactic acid bioplastics, Xaloy® PLA Screw and Barrel Package consists of 17-4 ph stainless steel with Xaloy® X-183™ hardfacing. Minimizing shear and controlling melt temperature, unit with mixing segment delivers homogenized melt.
---
Original Press Release:
Plasticizing System for PLA Improves Productivity and Product Quality While Providing a Longer Working Life
New Xaloy® PLA Screw and Barrel Package from Nordson Eliminates Guesswork and Minimizes Start-Up Complications for Molders and Extrusion Processors
A plasticizing system optimized for processing polylactic acid (PLA) bioplastics provides greater productivity and better product quality than standard screw and barrel systems while resisting the corrosive and abrasive effects of PLA compounds, it was announced today by Nordson Corporation.
Based on technology developed in cooperation with producers of PLA resins, Nordson's new Xaloy® PLA screw and barrel package incorporates three key elements: 1) screw geometries designed specifically for PLA that increase throughput while minimizing shear and controlling melt temperature; 2) mixing segments that deliver a homogenized melt; and 3) screw and barrel materials that resist the mildly corrosive effects of PLA and the abrasion caused by compound ingredients.
For all PLA applications, barrels in the new package system are lined with Xaloy® X-800® inlay, a nickel-based alloy with tungsten carbide that is more wear-resistant than iron, iron-chromium, and nickel-cobalt alloys, providing enhanced abrasion and corrosion resistance. Screws consist of 17-4 ph stainless steel with Xaloy® X-183™ hardfacing.
Screw designs are provided in accordance with the process:
Extrusion. The Xaloy® Efficient™ barrier screw with patented Xaloy® Stratablend® II mixer provides chaotic and distributive mixing and homogenized melt temperatures for enhanced quality and productivity.
Injection molding. The Xaloy® EasyMelt® screw can be tailored to a specific PLA resin grade to provide optimum temperature control and rapid recovery. When mixing is required, the Xaloy Z-Mixer™ can be added, and it is particularly valuable for applications requiring high clarity.
"The Xaloy® PLA package enhances productivity and product quality while providing a longer working life than standard plasticizing components," said Mark Colella, global product manager. "Because our technology is optimized for PLA, we can deliver a working system to our customers that minimizes start-up nuisances and is ready to meet production targets out-of-the-box, with no guesswork involved."
Nordson Corporation engineers, manufactures and markets differentiated products and systems used for the precision dispensing of adhesives, coatings, sealants, biomaterials, polymers, plastics and other materials, fluid management, test and inspection, UV curing and plasma surface treatment, all supported by application expertise and direct global sales and service. Nordson serves a wide variety of consumer non-durable, durable and technology end markets including packaging, nonwovens, electronics, medical, appliances, energy, transportation, construction, and general product assembly and finishing. Founded in 1954 and headquartered in Westlake, Ohio, the company has operations and support offices in more than 30 countries. Visit Nordson on the web at http://www.nordson.com.
Nordson Polymer Processing Systems provides customers with engineered components to melt, homogenize, filter, meter, and give shape to plastic and fluid coating materials. Nordson Corporation leverages the collective plastics industry experience from a series of strategic acquisitions to offer a uniquely broad portfolio of industry-leading technologies. Nordson delivers a full range of precision melt stream products — from screws and barrels for extrusion and injection molding — to filtration systems, pumps, and valves — to the extrusion dies and pelletizing systems to meet the constantly evolving needs of the polymer industry.
Nordson Corporation provides customers with local technical sales, service and remanufacturing capabilities through sales organizations and regional manufacturing facilities in over 30 countries. To learn more visit us at http://www.nordsonpolymerprocessing.com
More from Fluid & Gas Flow Equipment