Plastic Pallets are completely recyclable.
Press Release Summary: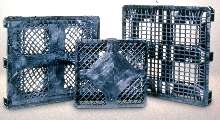 ROPAK(TM) plastic pallets offer static load capacity of 30,000 lbs and can be reused for years. Flat surfaced sizes include 32 x 30, 40 x 48, and 45 x 48 in. Units with 1 in. lip measure 40 x 48 and 45 x 48 in. Model 3230Q0 is 32 x 30 in. and features conveyorable 2-way entry base. All pallets are constructed of high density polyethylene, eliminating need to destroy trees and reducing landfill waste problem created by wood and corrugated pallets and crates.
---
Original Press Release:

Ropak(TM) Reusable Plastic Pallets Save Shipping Costs, Reduce Landfill Waste and Are Completely Recyclable


GEORGETOWN. KY (September 18, 2002) -Tough ROPAK reusable plastic pallets from LINPAC Materials Handling are the durable, environmentally friendly alternative to wooden pallets. With a static load capacity of 30,000 pounds and four-way forklift entry, ROPAK plastic pallets can be used and reused for years, saving shipping costs over the long run.

The pallets are available in three flat surfaced sizes - 32" x 30", 40" x 48", and 45" x 48" - and in two sizes with a one inch lip - 40" x 48" and 45" x 48". A 3230Q0 32" x 30" model features a conveyable two-way entry base. All ROPAK pallets are constructed of premium grade, high-density polyethylene (HDPE), with a three-year guarantee on workmanship.

ROPAK reusable pallets eliminate the need to destroy trees for pallet production and reduce the landfill waste problem created by wood and corrugated pallets and crates. Plus, at the end of their serviceable lives ROPAK pallets can be recycled to produce more reusable products.

ROPAK reusable plastic pallets are perfect for distribution, in-plant movement and warehousing. They are designed for integration with ROPAK's reusable container system and can be stacked on top of fully loaded or collapsed ROPAK containers.

The reusable containers manufactured by LINPAC replace single-trip paper, cardboard and metal packaging. They are made of premium grade, high-density polyethylene (HDPE) and copolymer polypropylene (CPP) for durability, and are available in a variety of configurations and weight capacities. The ROPAK product line includes pallets, hopper bottom containers and collapsible and non-collapsible container models with footprints ranging from 32" x 30" to 70" x 48", and heights to 50". LINPAC Materials Handling containers serve in a variety of industries, including automotive, plastics, chemicals, textiles, industrial equipment, appliance components, fresh produce, meat, poultry and retail grocery. A full range of design, implementation, financial and support services are available.

For more information about how the ROPAK reusable plastic pallets can meet your toughest material handling challenges, contact LINPAC Materials Handling, 120 Commerce Court, Georgetown, KY 40324. Phone: 1-800-442-4892 or (502) 863-5500. Fax: (502) 863-5342. Web site: www.LinpacMH.com.

Please send all leads to:
Kelly Fulton
LINPAC Materials Handling
120 Commerce Court
Georgetown, KY 40324

More from Electrical Equipment & Systems