Plastic Modular Conveyor Belt suits heavy-duty applications.
Press Release Summary: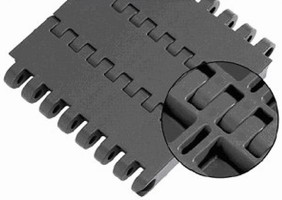 Assembled with nylon or steel rods and driven by solid lug tooth sprockets, M6420 Flat Top Belt incorporates smart fit rod retaining system and features low-friction materials that minimize energy consumption and eliminate need for lubrication. Tensile strength rating of over 6,800 lb/ft and level of lateral stiffness combine to create stable conveying platform. With steel rod option, belt strength is maximized to ensure smooth operation on conveyor lengths to 300 ft.
---
Original Press Release:
M6420 Flat Top - High Performance Belt for Heavy Duty Applications
Habasit introduces the strongest plastic modular belt for conveying extreme loads in applications found in the automotive, skid conveyors, heavy paper roll handling applications, construction & agriculture equipment, distribution centers, appliances, ATM machines and furniture industries. To ensure full heavy duty performance, the M6420 Flat Top belt can be assembled with nylon or steel rods and is driven by solid lug tooth sprockets providing optimum sprocket engagement. The main benefits of the M6420 Flat Top are a tensile strength rating of over 100,000 N/m (6,800 lb/ft) and a high lateral stiffness which combine to create an extremely stable conveying platform. Further enhancing the features of the M6420 Flat Top are the smart fit rod retaining system that provides maximum rod retention while allowing fast repairs during general maintenance without the use of complicated tools. By using the steel rod option, belt strength is maximized ensuring a smooth operation on conveyor lengths up to 91m (300ft). Compared to traditional steel chains, the M6420 Flat Top strong design allows for lower profile conveyors minimizing the space required. The use of low friction materials reduces energy consumption and eliminates the need for lubrication. Habasit has a long history in the paper board industry with its complete line of products for the processing side. Plastic modular belts and chains can improve the productivity and safety in your facility without adding cost compared to conventional transport systems. For further information do not hesitate to contact us. Christian Baechler Public Relations Manager Habasit AG Power transmission and conveyor belts Romerstrasse 1, CH- 4153 Reinach/BL Phone +41 (0)61 715 14 21 Fax +41 (0)61 715 15 55 E-mail: media.relations@habasit.com www.habasit.com
More from Machinery & Machining Tools