Plastic Handle Applicator is designed for high throughput.
Press Release Summary: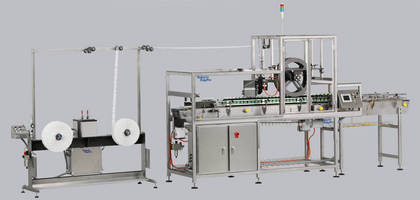 Located directly after capper, handle applicator utilizes continuous motion roll-feed design to achieve 2, 4, 6, 8, and 12 packs and offers up to 600 bottles/min throughput. Roll-feed design reduces operator time as well as number of dies required to one die per bottle neck size (as opposed to pack-size configuration). To change rolls, operators weld end of in-use roll to the beginning of next roll by pressing one button. Each machine accommodates two rolls of fully recyclable HDPE handles.
---
Original Press Release:

Roberts PolyPro's Innovative High Speed Handle Applicator Breaks New Ground In Terms of Lower Cost and Higher Throughput



This up to 600 bottles-per-minute applicator creates 2, 4, 6, 8, and 12 packs. Operator time is minimized thanks to an innovative new roll-feed system. The cost of dies has been slashed, thereby reducing acquisition costs. Handle costs have been significantly reduced as well.



CHARLOTTE, N.C. – Roberts PolyPro, powered by Pro Mach, is introducing the highest speed, most innovative handle applicator in the company's history. This new up to 600 bottles-per-minute handle applicator utilizes a continuous motion roll-feed design to achieve 2, 4, 6, 8, and 12 packs.



The roll-feed design has reduced the cost of handle dies as well as the number of dies required– one die per bottle neck size, not pack-size configuration. This significantly lowers the acquisition cost of this new continuous motion handle applicator.



The latest generation of fully recyclable HDPE handles are thin, light, and strong. The cost compared to the previous generation of handles has fallen by 26 percent principally from a 28 percent reduction in material sourced per handle. Operators no longer have to fill stacks of handles into a machine magazine, but simply load a roll of handles onto the machine. To change rolls, operators weld the end of the in-use roll to the beginning of the next roll with one push of a button. Each machine accommodates two rolls of handles. These features help reduce labor costs.



In the past, handles were applied at the end of the packaging line to bottles already packed in cases. This limited throughput to fewer than 500 bottles a minute. The new machine is located right after the capper. Not having to deal with in-case application meant that design engineers could reduce the footprint of the new machine.



"Brand owners and co-packers that are running high speed operations with one, two, or three bottle neck sizes per line will discover this is the solution they have been waiting for," said Chris Turner, Sales Director, Roberts PolyPro. "The high throughput, favorable cost of acquisition through die cost reductions, small footprint, reduced materials cost, lower operator involvement, and exceptional flexibility, make this high speed handle applicator a machine to learn more about."



For more information on the new up to 600 bottles-per-minute machine, contact sales at 800-269-7409. More solutions from Roberts PolyPro can be viewed at www.RobertsPolyPro.com.



About Roberts PolyPro

Roberts PolyPro, powered by Pro Mach, offers innovative product packaging solutions for consumer packaged goods and pharmaceutical companies. The company is a leader in manufacturing plastic and paper bottle carriers, box handles, pour spouts, j-hooks, and a complete line of standard and custom feeder and folder/gluer machinery. Roberts Polypro is based in Charlotte, N.C. Visit Roberts PolyPro at www.RobertsPolyPro.com.



About Pro Mach

Pro Mach is a leading provider of integrated packaging and processing products and solutions for food, beverage, consumer goods, pharmaceutical, and other diverse companies. Through our brands, Pro Mach provides product packaging and processing equipment, PMMI certified training, installation, parts, and service in Bottling & Capping, Primary Packaging, Flexible Packaging, Material Handling, Identification & Tracking, and End of Line Packaging.



Pro Mach has a diverse customer base, from Fortune 500 companies to smaller, privately-held businesses worldwide, which depend on reliable, flexible, technologically advanced equipment and integrated solution sets. Pro Mach is headquartered near Cincinnati, Ohio with manufacturing facilities and offices throughout the United States, Canada, and Europe. For more information about Pro Mach, visit www.ProMachInc.com.



Contact:

John Eklund

jeklund@promachinc.com

704-944-5340







More from Fluid & Gas Flow Equipment