Plasma / Flame / Laser Cutters and Cutting Machinery
Plasma Cutting Machines feature steamlined machine motion.
Press Release Summary: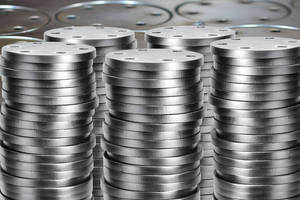 Integrated Plasma Cutting Machines have SmartCycle(TM) Technology that streamlines process control and machine motion. Columbus III programming and nesting software, which identifies process improvements and inserts appropriate programming codes into nest, is included. Featuring position encoder for Z-axis control, Smart Voltage Height Control adjusts vertical torch position from CNC. Automated system also allows torch to retract partially and reposition to next height to minimize cutting time.
---
Original Press Release:

ESAB Introduces SmartCycle(TM) Technology on ESAB Integrated Plasma Cutting Machines



ESAB Welding & Cutting Products introduces SmartCycle(TM) Technology for integrated plasma cutting machines. SmartCycle(TM) boosts plasma cutting productivity by streamlining process control and machine motion. By removing unnecessary process delays and tool motion, overall productivity can increase dramatically, depending on part and nest geometry. The system is automatic, requiring no operator intervention to produce optimized nests of high quality plasma cut parts in the shortest time possible.

SmartCycle(TM) Technology integrates the entire cutting machine, including the CNC, gantry, plasma system, torch height control, and programming software, so that they all work together to eliminate unproductive motion and improve productivity. SmartCycle(TM) starts with the Columbus III programming and nesting software, which identifies process improvements and inserts the appropriate programming codes into the nest. The Vision CNC and Smart Voltage Height Control systems work hand-in-hand to cut the nest in the most efficient manner. The m3 Plasma(TM) control enables fast arc starting and shortened pre-flow times where possible. Together these systems can more than double plasma cutting productivity, depending on part geometry and nesting layout.

SmartCycle(TM) improves plasma cutting productivity by eliminating unnecessary tool motion and process delays between cuts. It uses ESAB's Smart Voltage Height Control, which features a position encoder for accurate Z-axis control. By controlling the vertical torch position directly from the CNC, the torch can be positioned at high speed to within a few inches of the plate before switching to a slower speed for more accurate plate sensing. For many cuts, the system also allows the torch to retract partially, then reposition to the next pierce height without having to sense the plate surface. By skipping initial height sensing where possible, and eliminating the full torch retract after every cut, the total time required to cut a nest can be dramatically reduced.

Part geometry will have a significant effect on productivity gains. Nests filled with smaller parts with more holes will see dramatic improvements. Nests with large part and few holes will also see some benefit. Overall, customers who cut a variety of parts should expect a noticeable increase in the number of plasma cut parts produced per hour.

ESAB Welding & Cutting Products is one of the world's largest and most knowledgeable manufacturers of welding and cutting equipment and welding filler metals. Recognized as the technological leader in the industry, ESAB is committed to providing customized solutions for its customers. For more information, visit www.esab-cutting.com, call 1-800-ESAB123, or watch our 3-minute movie at esabna.com/cnc.

More from Electrical Equipment & Systems