Planetary Reducers suit moving column and gantry machines.
Press Release Summary: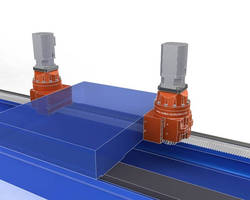 Allowing for mounting on both sides of machine frame, KRPX rack and pinion planetary reducers are coupled with electrical preload system enabling zero backlash. System fits to machine frame with oversized screws, while setting is enabled by keyway machined on mounting surface and housing is manufactured of spheroidal graphite cast iron. Enabling accelerations up to 25 m/sec², products are offered in universal sizes of 2, 3, and 4, allowing respective pinion height of under 104, 127, and 148 mm.
---
Original Press Release:

KRPX



KRPX is the new version of REDEX ANDANTEX rack & pinion high-tech planetary reducers. KRPX is a cost effective, easy to implement and high performing solution for moving column and gantry machine types. Made of two planetary reducers, KRPX allows perfect mounting on both sides of the machine frame. They are coupled with an electrical preload system enabling true zero backlash. This planetary reduction gear for rack and pinion applications offers exceptional rigidity characteristics, in particular through the one-piece output pinion technology invented by REDEX-ANDANTEX. It provides unrivalled radial rigidity (accounting for up to 60% of overall rigidity).

KRPX, the latest product development in the Racks & Pinions Drive range from REDEX ANDANTEX, is a true example of concurrent design between several Machine-tools OEMs leaders and one of their most strategic components suppliers.

Easy intergation and cost savings

To implement a TwinDRIVE solution (zero backlash with two servo-reducers and electrical preload) on a moving column or gantry machine was often quite difficult because either an extension on both sides of the main frame was requested to fix each reducers, or a special bracket support have to be design, manufactured and fit to the frame for the same purpose. In addition, these two kind of extensions need at least to keep the global stiffness at the same level than the main frame to avoid any deterioration of the dynamic performances.

All together, it´s quite easy to know that it meant time for designing a new frame version, lot of money for making special tools, and many troubles to keep high precision machining on parts which are sometimes very large.

With KRPX, there is just no need to design, to integrate and to machine a high precision fixation extension to the main machine frame, meaning that implementation is far simpler and cost-effective (up to 15% less expensive) than the conventional solutions.

KRPX housing is made of high quality spheroidal graphite cast iron and its fitting to the machine main frame is made with oversized screws to ensure an absolute connection.

Its structure has been optimised with FEM analysis methods to avoid deflection during acceleration.

A very precise keyway machined on the mounting surface allows very easy setting while keeping perfect mounting geometry.

This smart system has been designed to eliminate any risk of wrong mounting and system deflection.

Machine-tools quality construction and ultra-high stiffness

In addition, KRPX keeps the best advantage of TwinDRIVE performances with its exceptional compound stiffness mandatory for highly-demanding rack and pinion drive applications.

Available in the 3 standard universal sizes 2, 3 and 4, KRPX is very compact, a definitive advantage for helping implementation with respective pinion height not higher than 104, 127 and 148 mm.

With this new Racks & Pinion Drive concept, the machine-tools designer can easily expect to exceed market standard with maximum feed capacity up to 105 000 N and stiffness on the rack up to 333 000 N/mm.

The rigidity of KRPX is a direct consequence of its advanced design with integrated output pinion and reinforced output bearing.

The output pinions are machined to the same diameter as the shafts, giving the optimum compromise between transmissible torque and rigidity at the rack. The output bearing consists of two preloaded and substantially oversized angular contact roller bearings.

This construction enables the bearing to support the pinion as close as possible to the force, as only the thickness of the fastening nut separates the pinion from the output bearing.

This design reduces dramatically the radial bending, a factor responsible for up to 60% of the overall distortion but is nevertheless still poorly handled by existing systems.

The result is an increased dynamic precision thanks to its capacity to move heavier loads at higher speed. Its performance in terms of compound stiffness combined with its low inertia enables higher accelerations (up to 25 m/s2).

As a consequence, the natural frequencies of the global drive systems in which the racks & Pinions drive is integrated can be raised significantly.

REDEX ANDANTEX, headquartered in Ferrieres, France, employs 320 persons and has three production sites in Europe and North America (Andantex USA). More than 75% of sales are generated outside France.

Technological progress, a commitment to quality and exceptional technical support are the fundamental values of REDEX ANDANTEX.

ANDANTEX USA Inc.

1705 Valley Road

Wanamassa, NJ 07712

USA

BRADLEY Bruce

Phone: + 1 (800) 713 6170

Fax: + 1 (732) 493 2949

info@andantex.com

REDEX SA

ZI - BP 79 F-45210 Ferrieres

France

FOURTUNE Claude

Phone: 06 72 14 58 78/02 38 94 42 62

Fax: +33 2 38 94 42 99

cfourtune@redex.fr

More from Electrical Equipment & Systems