Planetary Gearboxes mount to all common servomotors.
Press Release Summary: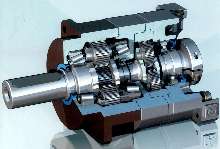 ZF-Servoplan PG 2-stage gearboxes offer low backlash of < 2 arc-min for applications requiring exact positioning. They feature large-dimensional taper roller bearings; precision-ground, hardened gears; and Viton seals for IP-65 rating. ZF-Servoplan PGE Gearboxes, for less demanding applications, range from 5-670 Nm with ratios from 3-1000. They include input pilot for proper motor/gearbox alignment, integrated length compensation system, and cageless needle bearings.
---
Original Press Release:
ZF Industrial Drives Announces Line Extension For its ZF-Servoplan Planetary Gearboxes
Vernon Hills, IL - ZF Industries' Industrial Drives Group has released two product additions to augment its highly successful ZF-Servoplan Planetary Gearbox line: a 2-Stage Version of the industry-leading precision line (PG), and a new complete Economy Line of gearboxes (PGE). Known for their high efficiency, low running temperatures and low noise, ZF-Servoplan gearboxes can be used in any installation position and easily mount to all common servomotors due to a modular adapter flange system. ZF-Servoplan PG gearboxes offer very low backlash (available < 2 arcmin) for demanding applications where exact positioning is critical. The PG features: o A robust output shaft shoulder and large-dimensional taper roller bearings in their patented CC arrangement, allowing the highest possible axial and radial loads. o Precision-ground, hardened gears with optimized gear tooth shape, ensuring the highest level of positional accuracy with low running noise. o The highest-quality Viton seals designed with the smallest possible diameters, making the gearbox sealed per IP-65 and maintenance-free for life with minimal power loss and low running temperatures. ZF-Servoplan PGE gearboxes were designed for less demanding applications where overall value is the primary concern. With its compact design and high power density, the PGE features: o A wide range of available sizes (5-670 Nm) and ratios (3-1000), making the PGE extremely versatile and able to satisfy almost any application. o An input pilot to ensure proper motor/gearbox alignment, and an integrated length compensation system to absorb thermal growth of the motor shaft that dramatically increases the life of the gearbox and the servomotor. o Gearing with optimized geometries featuring cageless needle bearings in the planetary gears, ensuring high efficiency, high torsional rigidity and high acceleration torques with low levels of running noise. For further information on ZF-Servoplan Planetary Gearboxes: ZF INDUSTRIES INC., INDUSTRIAL DRIVES GROUP 777 Hickory Hill Drive Vernon Hills, IL 60061 Phone: 800.660.9816 E-Mail: inddrivesinfo@zf.com
More from Paints & Coatings