PLA Alloys perform like ETPs and provide up to 40% biocontent.
Press Release Summary: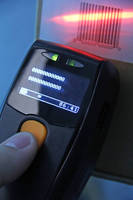 Based on alloys of polylactic acid (PLA) and engineering thermoplastics (ETPs), Terraloy® BP 70010 and 70011 compounds provide strength, stiffness, and heat distortion temperature as alternatives to polycarbonate (PC), ABS, and PC/ABS blends while respectively incorporating 40 and 36% levels of bio-based content. Compounds enable manufacturers of electronic housings and other components to incorporate bio-based content without sacrificing essential mechanical and thermal properties.
---
Original Press Release:

Tough PLA Alloys Perform Like Engineering Thermoplastics While Providing up to 40% Biocontent



As Alternatives to PC, ABS, and PC/ABS, New Terraloy® 70000 Series Compounds Exhibit Comparable or Greater Strength and Stiffness for Electronics Housings and Covers

PAWTUCKET, RI, U.S.A.: New polylactic acid (PLA) alloys enable manufacturers of electronic housings and other components to incorporate substantial amounts of bio-based content in their products without sacrificing the essential mechanical and thermal properties provided by engineering thermoplastics (ETPs), it was announced today by the Bioplastics Division of Teknor Apex Company.

Based on alloys of PLA and ETPs, Terraloy® BP 70010 and 70011 compounds provide similar or greater strength, stiffness, and heat distortion temperature in comparison with standard polycarbonate (PC), ABS, and PC/ABS blends while incorporating 40 and 36% levels of bio-based content, respectively (see accompanying table). Teknor Apex can formulate other Terraloy 70000 Series alloys on a custom basis, providing similar benefits while meeting specific customer requirements.

Potential applications for the new compounds include injection molded housings, handles, covers, and other components of electronic devices, medical equipment, and consumer products. When used in applications like medical equipment housings and bar code scanners, Terraloy 70000 Series alloys help manufacturers meet sustainability goals such as the minimum 25% biocontent specification in the BioPreferred Program of the U.S. Department of Agriculture.

"Teknor Apex has drawn on its formulating and compounding expertise to develop ETP compounds that have high bio-based content yet deliver performance comparable to standard petroleum-based engineering resins, while lowering overall greenhouse gas emissions," said Edwin Tam, manager of new strategic initiatives. "Indeed, both of the Terraloy alloys surpass ABS in mechanical and thermal properties and provide substantially higher levels of stiffness than PC or PC/ABS blends."

THE BIOPLASTICS DIVISION OF TEKNOR APEX COMPANY is a custom compounder of plastics derived from renewable resources. Product families include: 1) hybrids that combine thermoplastic starch (TPS) with standard petrochemical-based polymers such as polyolefins or polystyrene; 2) biodegradable or compostable blends of bioplastics such as TPS, PLA, PBAT, and PHA, some of which meet ASTM D-6400 and are listed by the Biodegradable Products Institute; 3) recycled-content hybrids that combine post-industrial or post-consumer polyolefins with TPS; and 4) PLA-based masterbatches that incorporate additives such as impact modifier or melt strength enhancers. Parent company Teknor Apex is one of the world's leading custom compounders of thermoplastics, including vinyls, elastomers, nylons, and color concentrates. Teknor Apex was established in 1924 and is privately held. Headquartered in Pawtucket, RI, U.S.A., it manufactures in the U.S.A., Singapore, China, and the UK and sells in 90 countries. Visit www.teknorapex.com.

FOR MORE INFORMATION: Tel: 1-401-725-8000. Fax: 1-401-724-8520. Email: bioplastics@teknorapex.com

Robert J. Martino
Martino Communications Inc.
8 Main Street / P.O. Box 379
Hastings-on-Hudson, NY 10706 U.S.A.
Tel: 1-914-478-0754
Fax: 1-914-478-0959
Email: bob@martinocommunications.com
Visit www.martinocommunications.com

More from Sensors, Monitors & Transducers