Pittsburgh Mixed-Use Building Enhanced with CENTRIA Formawall®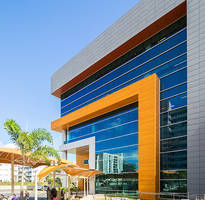 Tower 260 serves as a symbol for downtown redevelopment and the future of the Steel City
Moon Township, PA…CENTRIA® Formawall® enhances downtown Pittsburgh's Tower 260 mixed use building by contributing to striking asymmetrical design elements. The approximately
430,000 square foot development reinvigorates the downtown area with its visually-compelling profile and its capacity for new business, entertainment, and residences.
"The site shape is a classic result of an era when buildings were demolished to be replaced by parking lots wedged among the surviving buildings," says Arquitectonica, the architecture and design firm responsible for this project. "This building exemplifies urban regeneration."
Approximately 54,000 square feet of Formawall High Performance Building Envelope System aided in the final design of Tower 260. The panels were specified with a smooth finish in Sundance™ Mica. This enabled the firm to achieve its multi-prism design vision across several volumes.
"CENTRIA Formawall was a good fit for this project – the panels' modular nature helped significantly with lay-out and installation," says Tom Haught, Vice President, A.C. Dellovade, the CENTRIA dealer and installer. "The panel lengths were manageable - 12'-14' – which made it very easy to move the material around the site while allowing A.C. Dellovade to keep our manpower down to basically 2- or 3-man crews."
CENTRIA Formawall systems are durable, aesthetically-unique, and contain no red-list ingredients. Formawall consolidates up to six components found in common wall assemblies into just one, and its distinct profiles deliver unlimited design combinations.
Tower 260 has seven floors of Class A office space, a 330-car parking garage, and is home to the Hilton Garden Inn Pittsburgh Downtown. Restaurants in the building include Revel + Roost, Pizzuvio, and Millie's Homemade Ice Cream. The building is LEED® Certified™ Silver, and tenants include JLL, the anchor tenant, and Merrill-Lynch.
The firm responsible for the design was Arquitectonica, and the general contractor was Turner Construction. The CENTRIA dealer and installer was A.C. Dellovade Inc. The building was completed in 2016.
ABOUT CENTRIA
CENTRIA innovations in architectural metal wall and roof systems are helping building teams around the world envision metal as the future of the building envelope. From inspiration through installation, CENTRIA provides the highest level of expertise including service and support from an elite Dealer Network. Based in Pittsburgh (Moon Township, Pa.), CENTRIA metal architectural systems are the perfect combination of science and aesthetics, offering advanced thermal and moisture protection technology, the broadest spectrum of design options, truly integrated components, and superior sustainability. CENTRIA is a Cornerstone Building Brands company. Visit us at www.centria.com.
YouTube: https://www.youtube.com/channel/UCexRyuC8RVRlT1kw-TY8upQ
Facebook: https://www.facebook.com/CENTRIAperformance/
Twitter: http://twitter.com/CENTRIA
Instagram: https://www.instagram.com/centriaperformance/
LinkedIn: https://www.linkedin.com/company/centria/
More from Agricultural & Farming Products