Pitney Bowes SendPro Mailstation Reaches Milestone of 10K Units Sold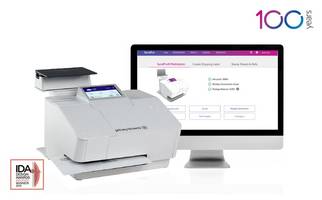 Stamford, Conn.--(Business Wire)--Pitney Bowes Inc. (NYSE: PBI), a global technology company that provides commerce solutions in the areas of ecommerce, shipping, mailing and financial services, today announced a new milestone for its latest sending technology, SendPro® Mailstation. The company has sold 10,000 units, averaging 100 sales every day for the first 100 business days since its launch. The momentous landmark is achieved as Pitney Bowes marks its 100th anniversary year.
"When some of the best design innovators in the world collaborate closely with clients to solve their sending challenges, it results in game-changing technologies with the power to transform day-to-day business operations. SendPro Mailstation is one of these technologies," said Jason Dies, EVP and President Sending Technology Solutions, Pitney Bowes. "To gain industry recognition on top of this is testament to the entire team behind this remarkable technology. Receiving it during our 100th year makes it even more meaningful."
Pitney Bowes launched SendPro Mailstation in April, heralding its 100th anniversary. The technology, with its postage-in-the-cloud capabilities and sophisticated features, is an evolution of the award-winning SendPro family of sending technologies. Businesses are using the compact, powerful and user-friendly technology to reduce the cost and complexity of sending, whether they are operating from a traditional workplace environment or working remotely.
Clients love its ease-of-use and simplicity. They have already printed more than 1M indicias. "We recently set up the SendPro Mailstation in our office and the solution has operated perfectly," said Mary Valenti, Executive Admin to CEO, PeriShip. "The option to refill postage online and the ability to view postage history helps our business keep track of exactly what we are spending on postage each month. We also really love the clean, modern design."
For more information on SendPro Mailstation, click here.
About Pitney Bowes' 100 Years
On April 23, 1920, Arthur Pitney, the inventor, and Walter Bowes, the promoter, founded The Pitney Bowes Postage Meter Company. Over the next 100 years, the combination of creativity with business acumen enabled Pitney Bowes to pioneer innovations for over one million clients through several decades – beginning with the postage meter to pushing the boundaries of global ecommerce. The Pitney Bowes centennial commitment continues to put the client first with sustainable innovation created by exceptional people who have deep ties to our communities and driven by a culture of doing the right thing the right way. For additional information visit Pitney Bowes: https://www.pitneybowes.com/us/newsroom/100.html.
About Pitney Bowes
Pitney Bowes (NYSE:PBI) is a global technology company providing commerce solutions that power billions of transactions. Clients around the world, including 90 percent of the Fortune 500, rely on the accuracy and precision delivered by Pitney Bowes solutions, analytics, and APIs in the areas of ecommerce fulfillment, shipping and returns; cross-border ecommerce; office mailing and shipping; presort services; and financing. For 100 years Pitney Bowes has been innovating and delivering technologies that remove the complexity of getting commerce transactions precisely right. For additional information visit Pitney Bowes, the Craftsmen of Commerce, at www.pitneybowes.com.
Contacts
John Spadafora
Pitney Bowes
M +1 518 708 3466
john.spadafora@pb.com