Piston Pumps target off-road vehicle applications.
Press Release Summary: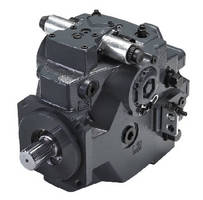 Offered in 60 cm³/68 cm³ and 89 cm³/100 cm³ frame sizes, H1 Series helps compensate for reduced power levels of Tier IV/Stage IV emissions-compliant engines. Units offer range of electric-only control options, including Electrical Displacement Control for load-independent speed control, Forward/Neutral/Reverse for on/off work function control, and Non-Feedback Proportional Electrical Control for load dependant control systems. Pressure limiter, control cut-off, and control over-ride are optional.
---
Original Press Release:

New 60cm³/68cm³ and 89cm³/100cm³ Piston Pumps Join the H1 Family



The Sauer-Danfoss family of electronically controlled H1 pumps continues to expand, providing high performance, greater efficiency, and additional functionality for off-road vehicles.

AMES, Iowa, USA, - Sauer-Danfoss Inc. (NYSE:SHS) Sauer-Danfoss has launched its new 60cm³/68cm³ and 89cm³/100cm³ H1 piston pump frame sizes. The H1 range of piston pumps, first introduced to the market in 2005, now includes six displacement ranges. "These new frame sizes provide additional flexibility and functionality, which enables OEMs to improve overall vehicle efficiency and increase productivity," says Branko Horvat, Sauer-Danfoss Product Marketing Manager. "Together with a range of electronic control options, our H1 solutions can also help compensate for the reduced power levels of Tier IV/Stage IV emissions-compliant engines."

The new H1 frame sizes are especially suited for combines, telehandlers, forage harvesters, wheel loaders, concrete and asphalt pavers, road rollers and forestry machinery. Horvat adds, "The high power density, compact size, and lighter weight of H1 pumps offers OEMs a high degree of system design flexibility."

Reduce Development Costs and Save Time

H1 pumps share a common electronic control platform. This means that all available control options can be used on any H1 pump, irrespective of frame size. This commonality provides greater design flexibility and helps speed up system development. Software developed for one frame size can also be easily transferred to other frame sizes.

H1 pumps offer a range of electric-only control options:

o EDC: Electrical Displacement Control (with mechanical feedback), for load-independent speed control.

o FNR: Forward/Neutral/Reverse, for simple on/off work function control.

o NFPE: Non-feedback Proportional Electrical Control, for load dependant control systems.

Horvat continues, "Our common control platform enables easy interface with Sauer-Danfoss PLUS+1(TM) microcontrollers and other PLUS+1 Compliant products, including joysticks, sensors and graphical display terminals. Combined with our H1 portfolio, we can offer our customers customized solutions that help maximize system efficiency and increase vehicle productivity."

Intelligent Utilization of Engine Power

A high-response pressure limiter (PL) is just one of the available H1 options that can help improve vehicle performance. Designed to manage the load on the engine, an active PL can limit system pressure by reducing the volume of oil that flows over the high pressure relief valve. As a result, less heat is generated within the system and the need for cooling is reduced.

Control cut-off (CCO) and control over-ride (COR) options are also available. These make it possible to perform a control circuit integrity check, during vehicle start-up, for a range of pre-defined operating scenarios. CCO and COR options also provide additional functionality for different working modes, for example, a seat-switch engine cut-off function. Incorporated within the housing of the H1 pump, these features provide additional flexibility and functionality while reducing total system cost.

SIL 2 Certified H1 Automotive Control

Sauer-Danfoss recently introduced H1 Automotive Control (H1 AC). Designed to help OEMs meet the demands of Machinery Directive 2006/42/EC and related safety standards, H1 AC features robust electronics mounted directly on the H1 pump. The embedded controller incorporates additional "watch dog" circuitry, which provides real time fault monitoring of the electronic hardware.

"H1 Automotive Control is the first solution on the market to offer the precision and consistent performance of intelligent electronics, combined with complete drive system functionality, system qualification and SIL 2 certification," states Horvat. "OEMs will be able to reduce time to market for new vehicles and model variants, while still customizing vehicle behavior and providing differentiation for their products."
Combined with optional software to monitor redundant Human Machine Interface input channels, H1 AC provides single-fault tolerance for AC vehicle transmission systems, with programming to bring the H1 pump to a defined 'safe state' in the event of signal loss or interruption.

The H1 Pump Family, as of January 2011, includes:

o Frame 45/53 single and tandem pumps: 45cm³ and 53cm³

o Frame 60/68 single pumps: 60cm³ and 68cm³

o Frame 78 single pump: 78 cm³

o Frame 89/100 single pumps: 89cm³ and 100cm³

o Frame 115/130 single pumps: 115cm³ and 130cm³

o Frame 147/165 single pumps: 147 cm³ and 165 cm³

Detailed information and literature can be found at www.sauer-danfoss.com/H1.

About Sauer-Danfoss

Sauer-Danfoss Inc. is a worldwide leader in the design, manufacture, and sale of engineered hydraulic and electronic systems and components for use primarily in applications of mobile equipment. Sauer-Danfoss, with 2009 revenues of approximately $1.2 billion, has sales, manufacturing, and engineering capabilities in Europe, the Americas, and the Asia-Pacific region.

More details online at www.sauer-danfoss.com.

For Technical Issues:

Branko Horvat Sauer-Danfoss Phone: +1 515 239 6000

Product Marketing Manager Ames, IA bhorvat@sauer-danfoss.com

For Media Information and Photos:

Europe:

Warren Joiner Sauer-Danfoss Phone: +45 7488 4375

Nordborg, Denmark wjoiner@sauer-danfoss.com

Asia-Pacific:

Kentaro Ide Sauer-Danfoss-Daikin Ltd. Phone: +81 6-6395-6066

Osaka, Japan kide@sauer-danfoss-daikin.com

More from Mechanical Components and Assemblies