Piston Pumps feature open circuit design.
Press Release Summary: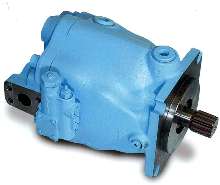 Series XL medium-duty, hydraulic piston pumps, available in 75 and 140 cc sizes, offer choice of pressure limiting, load sensing and pressure limiting, or pilot-operated controls. They feature hydrostatic cam bearings, 1-piece housing and mounting flange, tapered-roller shaft bearings, and O-ring seals. Case pressure is rated at 2 bar absolute continuous and 4 bar absolute peak. Pumps target off-highway equipment and in-plant machinery markets.
---
Original Press Release:

Denison Hydraulics Launches 2nd Pistons Pump in its New XL Series, Medium-Duty, Open-Circuit Lineup


MARYSVILLE, Ohio, Sept. 23 -- "A work in progress...and we're making progress."

That's how Denison piston product director Les Claar describes the continuous development of the company's new XL Series medium duty open circuit hydraulic piston pump family targeted at both the off-highway equipment and in-plant machinery markets.

A total of 10 models, ranging from 10 cc all the way to 260 cc will be made available over the next several years.

A new unit, the 140cc size, is now available to the market, joining the 75cc size that was-launched in 2002. These two sizes - in the middle of the planned range - were developed first because Denison market research indicates that the two sizes are destined to have the greatest applicability.

The product line is aimed at a very specific, growing segment of the fluid power marketplace:
- high volume,
- medium-duty,
- open circuit piston pumps,
- high pressures (280 bar; 4060 psi),
- for both high speed mobile and quiet industrial applications,
- and targeted at global customers.

The 10 frame sizes to be developed in the family will be available in SAE: and ISO versions with displacements of: 75, 140 100, 60, 45, 28, 18, 10, 180, and 260cc, in that order.

"This open circuit piston product family is being developed with the cost-saving notion of using shared components wherever possible," Claar says. "We know we're not the first to market with pumps of this size, so we're focusing on being the best, on keeping both design and manufacturing costs low."

Standard hydraulic controls include pressure limiting, load sensing and pressure limiting, and pilot operated control (ISO 4401 interface).
Design features for the XL Series:
o Hydrostatic cam bearings;
o One-piece housing and mounting flange;
o Tapered-roller shaft bearings;
o O-ring seals - no gaskets;
o SAE or ISO versions;
o Port blocks:
- End or side ports;
- Thru-drive with side ports;
- O-ring seal against housing;
- Same for LH and RH rotation;
- Optional max and min displacement adjustment;
- Optional case-to-inlet check/relief valve.
o Bias and control pistons:
- Attach to port block;
- Large size for good response;
- Switch locations to change rotation.
o Rotating group:
- Bronze faced port plate;
- Low ripple 9-piston design;
- Spring loaded shoe hold-down;
- Many powdered metal parts.
o Cam and cam bearings:
- Ductile iron cam;
- Powdered metal pads for control pistons;
- Hydrostatic bronze cam bearings (oil feed through housing on high pressure side; low pressure side feed through cam).
o Shaft and bearings:
- Splined and keyed ends available;
- Tapered roller bearings;
- Shimmed for long life.
o Shaft seal:
- Viton lip seal standard;
- Case pressure ratings: 2 bar absolute continuous, 4 bar absolute peak.

"Denison design and manufacturing engineers have worked together to ensure that the XL Series is not overly complex to manufacture," Claar says. "We have invested heavily in new manufacturing equipment. We have flexible, two-story machining centers that hold 330 tools and a manufacturing flow system that moves parts from machining cells to the assembly area quickly and effectively.

"We plan to become the low cost producer of medium duty pumps."

September 23, 2003
Contact:
Doug Drummond, NES
Rick Rockwell, Denison

Denison Hydraulics
14249 Industrial Parkway
Marysville, OH 43040
937.644.3915

More from Architectural & Civil Engineering Products