Piston Pumps convert 2 in. monitoring wells to production wells.
Press Release Summary: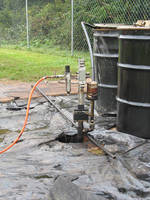 Blackhawk industrial-strength positive displacement piston pumps can be used to convert 2 in. monitoring well into actual production. Products pump virtually any liquid, irrespective of chemical composition or viscosity, at any angle from horizontal to vertical, and drivers can be powered by electricity, pneumatic air, or solar panels. While pneumatic and electric models are designed for depths to 800 ft and flows to 2 gpm, solar models are designed for depths to 400 ft and flows to 1.1 gpm.
---
Original Press Release:

Convert 2-Inch Monitoring Wells to Production Wells



Rugged Blackhawk piston pumps save money; pneumatic, electric, solar power



GLEN ELLYN, IL – When it is desirable to convert a two-inch monitoring well into actual production, Blackhawk Technology Company now offers the industry's only appropriately sized positive-displacement piston pump.



Blackhawk Technology, industry leader in piston pumps with above-wellhead drivers, pump virtually any liquid, irrespective of chemical composition or viscosity, at any angle from horizontal to vertical.  Drivers can be powered by electricity, pneumatic air or solar panels.



"Blackhawk production models are the only industrial-strength piston pumps that can be fit into two-inch wells, saving money with a quick, easy swap outs plus low operating and maintenance costs," Blackhawk's Mark Bertane said.



"Blackhawk has great success pumping known-contamination sites – remediation, coal tar, hydrocarbon recovery, high- and low-pH chemicals.  When it's time to move from monitoring to pumping, Blackhawk's track record is unparalleled."



Pneumatic and electric models for two-inch wells are designed for depths to 800 feet (240 meters) and flows to 2 gallons (7.5 liters) per minute.  No compressed air ever enters the well.  Solar models are designed for depths to 400 feet (120 meters) and flows to 1.1 (4.1 liters) per minute.



Blackhawk Technology Company is the originator and the No. 1 manufacturer of top-head-drive, positive-displacement piston pumps – leading-edge technology refined by more than 20 years of customer-driven improvements.  Blackhawk continues to introduce innovative products to the industry's most comprehensive line of pneumatic, electric and solar-driven piston pumps and pump supplies, all designed to withstand the harshest weather and downhole pumping environments.  Founded in 1990, the company originated landfill and groundwater remediation piston-pump products now covered by several patents and marks.  No company offers more real-world, piston-pumping experience in tough landfills, chemical facilities, hydrocarbon production and remediation sites throughout North and South America, Europe, Asia, Africa and Australia.



To learn more, visit www.blackhawkco.com or call 800-469-4887.



Company Contact:

Mark Bertane                                                                                            

Phone: 800-469-4887                                                                                        

Fax: 630-469-4896                                                                                               

Email: mbertane@blackhawkco.com  



Media:

Bob Carr

Phone:  630-697-2876 

Fax:  312-202-1278

E-mail: bcarr@blackhawkco.com  

 





 













More from Machinery & Machining Tools