Piping System includes sizes from 1/2 to 3 in.
Press Release Summary: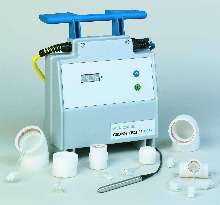 +GF+ PPRO-Seal Natural Polypropylene Piping System utilizes electrofusion joining technology for easy installation. Pipe, fittings, and valves are virgin polypropylene copolymer with no plasticizers, pigments, or contaminants. System will not rust, pit, scale, or corrode. It is pressure rated to 150 psi at 68°F and handles corrosive fluids up to 212°F. Applications include laboratory DI water, chemical and food processing, mining and paper plants.
---
Original Press Release:

George Fischer Sloane, Inc. Expands PPRO-Seal Natural Polypropylene Piping System


LITTLE ROCK, Arkansas. - Sept. 22, 2003 - George Fischer Sloane, Inc.'s +GF+ PPRO-Seal Natural Polypropylene Piping System has been expanded from the ½ - two-inch size range to include three-inch sizes, demonstrating proven performance since its introduction 10 years ago, this piping system is pressure rated and features the patented +GF+ electrofusion joining technology for easy installation. By combining quick-connect plugs for the electrofusion coil and bar code technology of the MSA 250, PPRO-Seal joints are made quickly, confidently, and economically.

+GF+ PPRO-Seal pipe, fittings, and valves are manufactured from a virgin polypropylene copolymer with no plasticizers, pigments, or any other contaminants that could effect the fluid medium. To prevent contamination in transit, pipe and fittings are specially wrapped and protected. Like all +GF+ thermoplastic products, +GF+ PPRO-Seal will not rust, pit, scale, or corrode. Natural Polypropylene is only 1/8 the weight of steel, providing easier handling and faster installation. The system is pressure rated to 150 psi at 68ºF (20ºC) and handles corrosive fluids up to 212ºF.

+GF+ PPRO-Seal is resistant to attack by most organic and inorganic chemicals in common use and has excellent impact strength. The excellent chemical and physical properties of Natural Polypropylene make it ideal for Laboratory DI Water, Chemical Processing, Food Processing, mining and paper plants or any other industry where elevated purity, corrosive resistance, and/or high temperature capability is required.

For further information, please contact George Fischer Sloane, Inc. at 7777 Sloane Dr., Little Rock, Arkansas 72206; Toll free: (800) 423-2686; Fax (501) 490-7171; E-mail: brian.goodin@sloane.georgefischer.com ; Web site: sloane.georgefischer.com

More from Electronic Components & Devices