Pipeline GIS Software simplifies entry of maintenance activities.
Press Release Summary: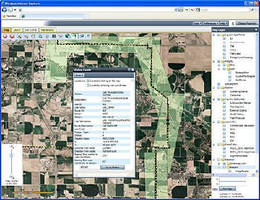 Built on the ESRI ArcGIS Server platform, Facility Manager WebEdit combines web mapping functionality with pipeline data maintenance features. Intelligent Domains drive consistent data entry while web-based architecture optimizes transfer of pipeline information between field locations and corporate GIS. Using workflow-based approach, field personnel can enter pipeline maintenance activities directly into corporate GIS database, eliminating need for paper forms.
---
Original Press Release:

Web-Based Pipeline GIS Editing Software Launched



New Century Software has launched Facility Manager WebEdit, a new lightweight pipeline GIS database editing tool. Built on the ESRI ArcGIS Server platform, the application combines web mapping functionality with pipeline data maintenance features. Intelligent Domains drive consistent data entry and the web-based architecture enhances the transfer of critical pipeline information between field locations and the corporate GIS.

Using a workflow-based approach, field personnel can now directly enter pipeline maintenance activities such as repairs, inspections and foreign line crossings directly into the corporate GIS database, eliminating the need for paper forms. Submitted records are temporarily held in a staging queue until approved by an authorized GIS approver. This approach creates a system of accountability and a more transparent workflow for data edits coming from remote users. Valuable time is saved and the potential for errors reduced by not having to re-enter data from handwritten forms received via email, fax, or mail.

Facility Manager WebEdit uses Intelligent Domains to simplify data entry while better controlling data quality. Intelligent Domains limit the selection of drop-down values to only include valid domains in the pipeline GIS database. "This new tool combines the web mapping functionality of our Centerline Browser application with select data maintenance features found in our Facility Manager desktop application," stated Ron Brush, president of New Century Software. "We feel it addresses a number of challenges pipeline operators are facing with the ongoing integrity of their pipeline data."

About New Century Software

New Century Software provides enterprise GIS implementation, integrity management, data loading and management, asset mapping and reporting, and custom application development solutions for the oil and gas industry. Since 1994 the company has provided these services for many multi-national integrated energy companies and major pipeline operators. The company specializes in helping operators meet pipeline integrity management and data integration requirements. www.newcenturysoftware.com

More from Materials