Pipe Inspection System comes with image analysis software.
Press Release Summary: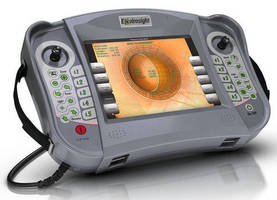 ROVVER X(TM) pipe inspection crawler features ROVVER Measurement Suite (RMS), which lets operator measure pipe attributes directly from system's touchscreen control pendant. Using adjustable overlays, image-analysis software calculates flow level; pipe diameter, bend, and offset; as well as branch angle, clock position and diameter of service connections. All measurements can be stored in system's onboard WinCan-based inspection reporting database and offloaded to WinCan V8 software.
---
Original Press Release:

New ROVVER Measurement Suite (RMS) Software Module for ROVVER X(TM) Calculates Pipe Measurements from Inspection Footage



Randolph, New Jersey-New ROVVER Measurement Suite (RMS) image-analysis software for the ROVVER X pipe inspection crawler allows an operator to measure a variety of pipe attributes directly from the system's touch-screen control pendant. Using adjustable overlays, the software calculates flow level; pipe diameter, bend and offset; and the branch angle, clock position and diameter of service connections. All measurements can be stored in the system's onboard WinCan-based inspection reporting database. Measurements can also be offloaded seamlessly to WinCan V8 software, the 3D module of which can use the data to build a virtual model of the inspected assets.

"RMS is the latest example of the ROVVER X innovation paradigm, where new software-driven features are automatically added to the system when an operator connects the control pendant to the Internet," says Richard Lindner, President of Envirosight. "Best of all, customers receive these regular upgrades at no cost. While most crawlers grow obsolete as new features enter the marketplace, ROVVER X's powerful embedded computer and network architecture help it evolve to meet the future."

RMS joins an array of measurement technologies already built into ROVVER X, including inclination, roll and pressure sensing, as well as crack measurement software that works off a pair of parallel laser dots projected from the camera. For full geometric scanning of pipe, ROVVER X is available with laser-profiling capability, either standalone or integrated into the optional DigiSewer side-scanning camera head.

Existing ROVVER X systems will be automatically upgraded with RMS software starting in August. New systems shipping after August 1 will have the software pre-loaded.

About ROVVER X
ROVVER X is the one pipe inspection system that lets an operator do everything-control inspections, view and record digital video, log observations, generate reports, and link directly to asset-management software. All this capability is packed into a simple three-piece layout, with no CCU or other components to clutter the workspace.

Though remarkably self-contained, ROVVER X is built on an expandable digital backbone. Not only can an operator add side-scanning and laser profiling, he or she can view data from onboard sensors, automate tasks with macros, and measure defects onscreen. And future capabilities are limitless-ROVVER X's firmware updates automatically to the latest features, and its architecture is ready for any accessory-even ones that don't yet exist.

Advanced technology aside, ROVVER X is built for the rigors of sewer inspection. Twelve wheel options-plus camera lift, carriage and illumination accessories-mean ROVVER X transforms in seconds to inspect lines six to 60 inches. Its six-wheel drive with proportional steering navigates past obstacles, and overlapping wheels climb offsets better than tracks. Powerful motors and a geared drive train maximize range and pivot capability, even with carriage and 10" knobby tires installed.

Ultimately, however, reliability and productivity have made ROVVER the number one crawler brand worldwide. ROVVER X continues this tradition with unsurpassed video resolution and 50% more illumination, leaving no detail hidden. Its powerful reel monitors cable tension optically to prevent slack and minimize resistance, allowing one-man operation. And self-diagnostic capabilities, plus access to operating history, only enhance the uptime of the one crawler that already leads the industry.

About Envirosight LLC
Randolph, New Jersey-based Envirosight, LLC provides video pipeline inspection solutions to municipalities, contractors, departments of transportation, and civil/environmental engineers. Envirosight is committed to ongoing innovation, delivering products that enhance user productivity and inspection detail. Envirosight serves customers through a trained network of regional sales partners who deliver localized support and expertise with rapid turnaround. All Envirosight technical employees hold NASSCO PACP certification. Visit Envirosight online at www.envirosight.com

More from Optics & Photonics