Pipe Inspection Software maps data for complete analysis.
Press Release Summary: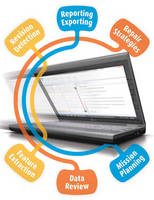 Available for WinCan(TM) v8, WinCan(TM) GIS aids management of water, stormwater, and sewer infrastructure using GIS data. Map can be used to create entire project with pre-populated section data, and functionality also allows automatic creation of linked map elements from observations. Users may also plot observations into GIS as point features with links to videos and photos, augment GIS data with infrastructure detail, and highlight differences between GIS and WinCan data.
---
Original Press Release:

New WinCan(TM) GIS Module Maps Pipe Inspection Data for Improved Condition Analysis and Asset Management



Pittsburgh, Pennsylvania-New WinCan GIS makes it easier than ever to manage water, stormwater and sewer infrastructure using GIS data. Now, simply click-and-drag or query a map to create entire WinCan projects with prepopulated section data; automatically create linked map elements from observations; dispatch inspection and rehab crews with unprecedented ease; and augment your GIS data with more infrastructure detail.

"These days, rudimentary map functionality is commonplace among pipe inspection software," says George Brown, GISP, GIS Manager at Pipeline Analytics. "However, WinCan GIS is light-years ahead of that, providing the market's deepest integration between map and inspection data. Now you can filter, report, browse media, track progress and create work orders-all through an intuitive map interface. On top of that, you can even use geo-located observations in your GIS business process."

Among other functionality, WinCan GIS supports:

Feature Extraction: Plot observations into your GIS as point features with links to videos and photos.

Revision Detection: Highlight differences between your GIS and your WinCan data.

Reporting/Exporting: Create reports and export data into Excel.

Repair Strategies: Utilize observation data to create pipe-specific repair strategies.

Data Review: Review WinCan data outside of WinCan.

Mission Planning: Use your GIS to create subsets of data for pipes to be inspected.

WinCan GIS is an add-on module for WinCan V8 pipe inspection and asset management software. For more information, visit www.pipelineanalytics.com.

About WinCan. WinCan(TM) was the original pipe inspection and asset management software when it entered the market 15 years ago. Today, it's the most trusted pipeline software worldwide, thanks to continuous innovation and exceptional support. WinCan(TM) transforms raw inspection data into the intelligence municipalities and contractors need to make critical maintenance decisions. The software's measurement tools help quantify defects, and sophisticated search capabilities filter observations by any combination of criteria. Its report generator automatically summarizes inspection findings using a standard or user-defined template. Native support for GIS mapping, side-scanning and 3D are among WinCan's(TM) most innovative features.

About Pipeline Analytics. WinCan(TM) pipe inspection and asset management software is supported and distributed in the Americas exclusively by Pipeline Analytics. As the only WinCan(TM)-certified software consultancy, Pipeline Analytics(TM) is uniquely positioned to deliver support, training, customization and integration with all common municipal databases and mapping software programs. Pipeline Analytics(TM) works directly with end users, and also with inspection equipment manufacturers, helping them deliver integrated hardware/software solutions that allow their customers to document, analyze and report pipeline condition. Visit Pipeline Analytics(TM) online at www.pipelineanalytics.com

More from Fluid & Gas Flow Equipment