Pipe Handling System aids horizontal/directional drilling.
Press Release Summary: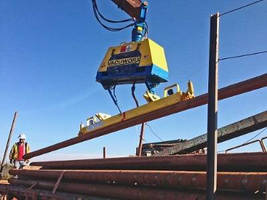 Utilizing wireless remote controller operation and vacuum-lifting technology, HDD Pipe Handling System tilts and places drill stem at angles from 0° and 30° without using ropes or slings. Weight lets one worker lift drill stem and transfer pipe into drilling rig, while 360° hydraulic rotator gives operators complete control over drill stem and allows for precise placement of pipe joints. System handles single joints of steel pipe from 3–18 in. dia with lift capacities from 1,700–5,400 lb.
---
Original Press Release:

Vacuworx Launches HDD Pipe Handling System to Serve Directional Drilling Markets



TULSA, Okla. – Vacuworx, a leading manufacturer of innovative vacuum lifting technology and heavy-duty material handling equipment, has launched a lightweight pipe handling system to lift and position drill stem in horizontal and directional drilling operations.



The HDD Pipe Handling System utilizes wireless remote controller operation and the latest vacuum-lifting technology to tilt and place drill stem at angles between 0 and 30 degrees without the use of ropes or slings. Suitable for use with Vacuworx MC Series Lifters, the HDD unit is significantly lighter weight than competing technologies and requires only one worker to lift drill stem and transfer the pipe into a drilling rig, reducing exposure to risk of injury in a pipe yard or on a jobsite.



The unit is compact yet highly durable and well matched to meet the rigorous demands uncovered by contractors or municipalities looking for ways to decrease load times and bolster safety during the course of trenchless HDD applications. The equipment features a 360-degree hydraulic rotator that gives operators complete control over drill stem and allows for the precise placement of pipe joints with fewer workers on the ground.



The HDD Pipe Handling System handles single joints of steel pipe from 3 in (76 mm) to 18 in (457 mm) in diameter with lift capacities ranging from 1,700 lb (771 kg) to 5,400 lb (2,449 kg), depending on the size and configuration of vacuum pads. The HDD unit is ideal for smaller excavators and host equipment such as forklifts, cranes, wheel loaders and boom trucks.



The MC Series lifter is powered by a self-contained engine and includes audible and visible alarms, adding an additional layer of safety and performance in the field. The HDD Pipe Handling System's integrated safety control valve also ensures pipe is never dropped. All Vacuworx Lifting Systems are CE certified, OSHA compliant, and manufactured to meet or exceed ASME/ANSI safety standards.



About Vacuworx

Tulsa-based Vacuworx has been a leading provider of vacuum-based lifting equipment and heavy-duty material handling solutions for more than 15 years with sales and rental options for the pipeline, oil, gas, utility and road construction industries. Vacuworx Lifting Systems are customizable for various applications and lift capacities, offering contractors and municipalities a faster, safer and smarter method of handling pipe, plate, slab, concrete road barriers and HDD drill stem. With a growing base of distribution points in the US, Canada, Latin America, Australia, Europe and Africa, Vacuworx offers on-site maintenance and repairs, and stocks a full line of parts available for shipping 365 days a year. Learn more at www.Vacuworx.com.



Facebook: https://www.facebook.com/Vacuworx

Twitter: https://twitter.com/vacuworx

LinkedIn: http://www.linkedin.com/company/vacuworx-global

Youtube: https://www.youtube.com/user/Vacuworx





CONTACT:

Deanne Vick

Vacuworx

+1-918-591-3004

deannev@vacuworx.com 



Todd Razor

Three Razors Media,

+1-515-953-8247

todd@threerazors.com

More from Machinery & Machining Tools